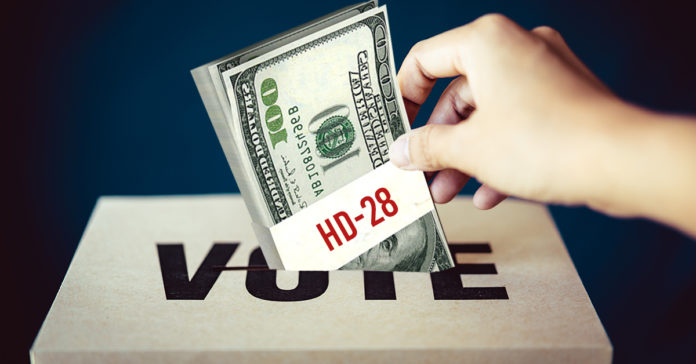 In the race to represent Fort Bend County, Eliz Markowitz is leading the field when it comes to small-donor fundraising. In her nearly 200-page campaign finance report, Markowitz detailed about $60,000 in contributions from 880 people.

Markowitz, along with the rest of the candidates, released her 30-day campaign finance report on Tuesday. These filings are the last glimpse voters will have into the campaigns before early voting starts on Oct. 21.

Many of the donors in Markowitz's report gave $5 and $10, with some donating as little as $2. Though some contributors are repeat donors, she didn't take any money from PACs.

Of the money Markowitz has raised, she's only spent about $16,000. Although Markowitz has an impressive amount of cash on hand, she remains a distant third when it comes to campaign liquidity.
Tricia Krenek is going into the home stretch with $113,067 in her coffers. Krenek raised $30,000 spent $67,000 and loaned her campaign $150,000.
Krenek takes second place in the largest personal loan to a campaign contest, that prize goes to Gary Gates who's sunk $271,000 of his own money into his campaign.
Although Markowitz hasn't had to loan her campaign any money, her impressive fundraising total is still only enough to get her second place in the donor primary.

Anna Allred released her fundraising numbers early and posted a total of about $160,000. Allred's money came from just 140 donors — the majority of whom are physicians. Allred also took $123,500 from medical and anesthesiologist PACs and loaned her campaign $20,000.

Allred is burning through cash almost as fast as she's raising it. She's spent $142,234 on the race, more than $60,000 of which went to campaign consultants and PR firms.

However, when it comes to campaign spending none of the candidates can top Gates. Gates has raised $265 from nine donors and spent $213,552. As in his six previous races, the multimillionaire is largely self-financing his campaign.

Despite the low fundraising numbers, Gates doesn't take the cake for the lowest reported fundraising total. That dubious honor goes to Sarah Laningham.

Laningham reported a fundraising total of $100. She also reported $2,199 in campaign expenses and $100 cash on hand.