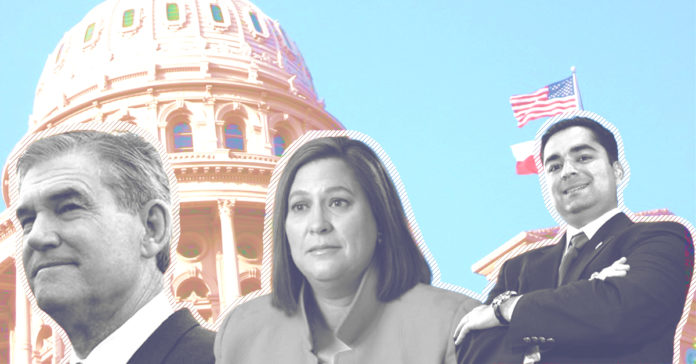 HD-029 Ed Thompson

Ed Thompson (R-Pearland) is a five-time representative with a reputation for shady campaign tactics. For more than a year, Thompson has been dogged by concerns about whether or not he had a stand-in during the 2018 Democratic primary.

The questions stem from James Presley's campaign. Presley, a Libertarian political writer, announced his decision to run for the Democratic nomination.

Having spent many years in San Antonio, Presley was a virtual unknown in the district when he beat primary opponent Dylan Wilde Forbis Forbis 59.7 percent to 40.3 percent. Presley didn't raise any money and he didn't do any campaigning.

Although a lackadaisical attitude towards campaigning is unusual, it generally isn't enough for corruption allegations to start flying. But Presley's decision to drop out of the race after he secured the nomination led to concerns by some that he was a Thompson stooge.

Under Texas law, a candidate has to file a declaration of candidacy with the Texas Secretary of State or the county judge no later than 5 p.m. on the 78th day before the general election. The 2018 general election was held on Nov. 6.

Presley announced he was dropping out of the race on Aug. 18 — 79 days before the election and one day after the write-in deadline, which prevented Forbis from filing to run as a Democrat.

Along with possibly unethical campaigning, Thompson is also known for his anti-vaxxer sentiments.

He opposed mandatory vaccinations for foster children and voted against a bill that would have let unvaccinated teenagers consent to vaccines.

HD-043 J.M. Lozano

J.M. Lozano (R-Kingsville) is a five-time representative who defected when his district was redrawn. Before he ran for office, Lozano was a rising star in Democratic politics.

He'd interned for state Sen. Carlos Truan during college and worked in U.S. Rep. Ruben Hinojosa's district office after he graduated. When Lozano first ran for office in 2010, he won his seat as a Democrat.

However, after the 2010 Census, Lozano's district was gerrymandered so that it leaned Republican.

When Lozano learned he had a better shot at staying in office as a Republican than as a Democrat he discovered he was pro-oil, pro-life and pro-business. He decided the Republican Party was where he needed to be.

After jumping ship, Lozano supported confidentiality agreements in sexual harassment settlements, opposed equal pay for public employees, and authored a bill that would have made it more difficult for veterans to access their tuition benefits.

HD-115 Julie Johnson

Julie Johnson (D-Dallas) is the first openly gay representative from Dallas County. In the most recent legislative session, she opposed a bill that would have increased penalties for protesting pipeline construction. She voted against a bill allowing guns in places of worship and voted to reduce the tax burden on homes damaged during a natural disaster.

Johnson authored a bill that decriminalized cannabis possession and voted in favor of creating administrative penalties for sexual assault on college campuses. She supported a bill that would have let first responders injured in the line of duty go to college tuition-free.

She opposed the elimination of the plumbing board and supported the expansion of public information requirements.