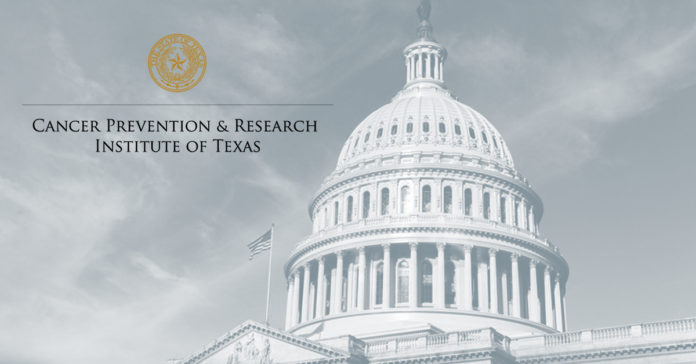 Millions of dollars in cancer-fighting grants are on the line when voters head to the polls in a few weeks.

Amongst the various Constitutional Amendments and special elections is Proposition 6, which will allow voters to decide whether or not to continue funding the Cancer Prevention Research Institute, known as CPRIT, for another 10 years.

The agency launched in 2007 after 62 percent of Texas voters approved a constitutional amendment to invest $3 billion in bonds for the fight against cancer.

That vote made Texas the second-largest source of public money for cancer research in the country, trailing only the federal government. Every year CPRIT distributes up to $300 million to fight cancer, 90 percent of which goes to research and the remainder allocated to prevention.

The amount of funding the agency annually distributes has lured 170 researchers and their labs to the state — including James Allison at the University of Texas MD Anderson Cancer Center, who won the 2018 Nobel Prize for his work.

If Proposition 6 passes, it would authorize the state legislature to increase grant funding from $3 billion to $6 billion for CPRIT. The institute uses bond proceeds to award grants for cancer research.

Opponents of Proposition 6, such as Texans for Fiscal Responsibility, accuse CPRIT of not being a good steward of taxpayer dollars and claim cancer research is not a core function of government.

The attacks on CPRIT stem from a 2012 scandal, which revealed that CPRIT had doled out two grants worth $11 million without review. The following investigation led to the indictment of a former CPRIT executive.

CPRIT's defenders point to the fact that the agency's 1,257 grants have allowed more than 19,000 patients to access cancer treatment and created more than 100 clinical trials.

In East Texas alone more than 6,000 people have received colon cancer screenings over the last three years because of CPRIT. In the Panhandle, CPRIT funded about 2,000 mammograms.

In at least one case, a CPRIT funded mammogram may have saved the life of a 58-year-old woman.
In addition to the health aspects, CPRIT has also been credited with generating more than $12.4 billion in economic activity.

Although the organization wasn't founded with the intent of creating jobs, the state agency has contributed to economic growth. CPRIT staff estimates that, in 2018 alone, 10,000 jobs were created as a ripple effect from the agency's activities.

Investments in Texas biotech companies have increased by 11 percent since CPRIT was founded. It's fairly common for a biotech firm to receive outside investment once it has secured a CPRIT grant.

Over the last 12 years, CPRIT grants have triggered $1.75 billion in follow-on investing by venture capital firms in startup biotech companies. Despite all of the accomplishments, CPRIT is still seen as a revenue black hole.

Servicing CPRIT's debt will cost the state $120.6 million this year alone. Although most Texas legislators consider CPRIT's mission "unquestionably noble," quite a few don't think the government should be in the medical field to begin with.
The upcoming vote allows Texas residents to decide for themselves whether the state's money should support the agency over the next decade. Early voting begins on Oct. 21, in the middle of National Breast Cancer Awareness Month — when even the NFL pink-washes itself in the name of fighting against cancer.

Hopefully, the pink ribbons adorning everything from cars to cupcakes will help convince voters to continue funding an agency with outsize impact in Texas and beyond.