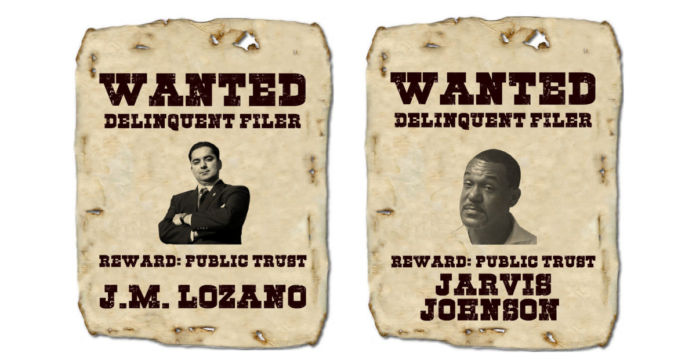 Each year, Texas politicians, candidates, and state officials are required to file a Personal Financial Statement (PFS) disclosing their assets and liabilities, income, gifts received, etc. The purpose of these statements is to provide the public with politician transparency and to ensure officials are clear from possible conflicts of interest.

The PFS filing deadline for the year of 2018 was April 30, 2019, and Rep. J.M. Lozano (R-Kingsville) and Rep. Jarvis Johnson (D-Houston) still have not filed their disclosures.

Rep. Lozano is no stranger to the $500 penalty for late filing. The Texas Tribune posted Lozano's 2013 PFS, originally due April 30th, 2013. According to an email from the Texas Ethics Commission, Lozano was granted an extension of the deadline and was required to submit the form by July 1st, 2013. Even with the additional two months, Lozano was unable to provide his PFS by the extended deadline. In 2016, Lozano's PFS statement was filed after the February 12 deadline. He missed the May 1st cutoff for submission again in 2017.

Here we are again in 2019, waiting on Rep. Lozano to produce the critical report that allows the public to hold politicians accountable. If Lozano insists on consistently submitting his PFS forms late, it raises the question – what is he trying to hide?