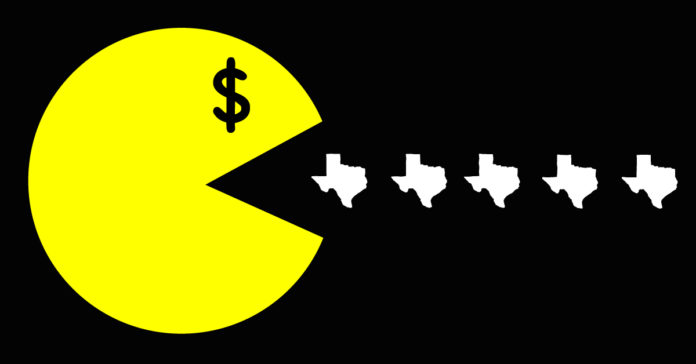 After a very expensive 2020 general election fight over control of the Texas House, many political committees drained out much of their cash. However, with 2022 statewide elections on the horizon and a moratorium on contributions for statewide office holders and legislators during the legislative session, it is worth looking at which PACs have the biggest war chests. 
Based on a Reform Austin analysis of campaign finance data from the Texas Ethics Commission, here are the top 10 PACs with the most cash-on-hand in Texas.
Texans for Greg Abbott*
Cash-on-hand: $37.99M
Abbott substantially increased his war chest in 2020. Is he planning to run for president?

Texans for Dan Patrick*
Cash-on-hand: $19.45M
Patrick had one of the narrower statewide contests in 2018 with a 4.8 point victory. So it stands to reason he will want to continue to have enough for 2022 and any potential runs for higher office.
Texas Leads PAC
Cash-on-hand: $2.17M
This PAC is the brainchild of former Speaker Dennis Bonnen and was meant to be used to defend the House Republican majority, but after the scandal in the fall of 2019, only a small portion went to Republicans in contested races. This is all that is left.

Texas Forever Forward PAC
Cash-on-hand: $2.09M
Former Speaker Straus has used this PAC to support moderate Republicans that aligned with his pro-business and pro-public education stances. It is likely he will continue to do this for the next election cycle.

National Democratic Redistricting Committee
Cash-on-hand: $1.96M
The Eric Holder-led group hoped to flip the Texas House in 2020 ahead of a post-census redistricting session but came up short. They might still play a role after session when the moratorium ends and the loophole for fundraising during a special session occurs as redistricting is reportedly set to happen in September.
Future Now Fund TX
Cash-on-hand: $1.87M
Another progressive group involved in state legislature races across the country had aligned with the failed Democrat effort to flip the Texas House in 2020. It remains to be seen what they will do after the loss in November. They have an associated advocacy group for pushing progressive legislation.
*These committees are subject to the moratorium on fundraising, which runs between December 13, 2020 to June 20, 2021, as they are intended to assist a statewide officeholder.
Honorable Mentions
While they did not file a semiannual report, these two PACs had a substantial amount of cash on hand in their January monthly filing.

Teamsters Local 19
Cash-on-hand: $13.05M

Texas Realtors PAC
Cash-on-hand: $7.35M