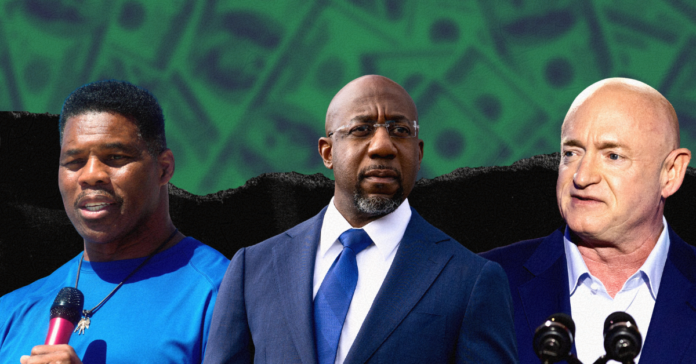 This election cycle Texas has been sparing no expense. And while top-of-the-ticket races are taking a lot of the oxygen, Texans seem to also be investing in out-of-state Senate races.

Texans seem to be viewing the Lone Star State as an investment rather than an ATM since clearly, the Governor's race seems to be hauling in all the big bucks. However, a lot of that money is also going out.

Here is a list of the Top 3 senate races Texans have been contributing to this election cycle:

– Sen. Marco Rubio (R-FL), has received $2.35 million from Texas.

Sen. Marco Rubio who has been in the US Senate since 2011, is seeking a third term in the US Senate and is facing off against Democratic Rep. Val Demings. So far, his challenger, Demings has been the most successful fundraiser in the senate, raising nearly $64.7 million. In comparison, Rubio has raised $44.2 million, according to OpenSecrets.

– Sen. Raphael Warnock (D-GA), has received $2.17 million from Texas.

In Georgia, republicans are eager to win the Senate seat back and are laying down lots of cash in hopes of making that happen. Sen. Raphael Warnock, who was elected two years ago in a skin-of-the-teeth runoff, is running against Republican challenger Herschel Walker.

Warnock leads the money race with $13.7 million in cash on hand and a record-breaking $26.3 million raised between July 1 and the end of September, according to the campaign.

– Sen. Mark Kelly (D-AZ), has received $2.15 million from Texas.

Sen. Mark Kelly won his seat in the Senate in 2020, defeating GOP Sen. Martha McSally in a special election. Because his 2020 election was only to fill the remainder of McCain's term, he's up for re-election again this year.

Kelly, one of the party's best fundraisers, hauled in $75.5 million as of Sept. 30, and still had $13.2 million on hand, according to his most recent Federal Election Commission reports. Meanwhile, his GOP challenger Blake Masters, has only raised $9.9million in the same period, with $2.8 million in the bank.
Other candidates that have received out-of-state money from Texas include; Republican candidate for Senate election in Georgia, Herschel Walker, $1.62 million, and Catherine Cortez Masto (D-NV), $1.23 million.