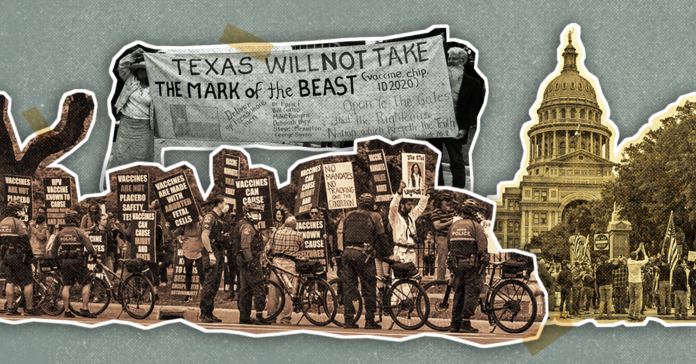 A vaccine for coronavirus is likely still more than a year away, but it's on the minds of Texans right now.
On both sides of the issue there are questions about whether the vaccine will be required, how it will be tested and guaranteed for safety and effectiveness, and what the possible implications of it could be.
This week, Texans for Vaccine Choice sent Gov. Greg Abbott a letter seeking assurances that a negative test for COVID-19 testing will not be required for Texans to return to work.
Last year, the powerful lobbying group and other anti-vaxxers supported bills arming families with doctor-provided information about vaccines, making it easier to opt out. They aren't giving up the fight this year as researchers are working to create a coronavirus vaccine. 
"The emergence of effective therapies and treatments brings hope and reassurance during what has been a trying and uncertain time. These advancements have brought with them a heightened public awareness of the complicated ethical questions that present themselves when dealing with the fast-tracked testing and approval of a new treatment or vaccine & the policies surrounding its eventual use,"  Texans for Vaccine Choice Executive Director Jackie Schlegel said in a resource provided by the group. "Public concern over the issues of loss of personal liberty and conflicts of interest among major players in public health is rising, as is the loss of trust in government regulatory agencies and policymakers — feelings of fear and doubt inevitably follow." 
Texans for Vaccine Choice feel that awareness and fact-based education about the risks and benefits of vaccines are paramount to being a voice for children and families who are weighing the choice to vaccinate. Texas has one of the largest anti-vaxxer communities in the nation.
Schlegel, who said her daughter is disabled due to complications from a vaccine, told the Houston Chronicle that "the time is now to stand up, to be here for your families, to be here for your children, the ones who do not have a voice."
But as the choice not to vaccinate has become more common, Texas has seen a recent resurgence in diseases that have been thought to be virtually eliminated for a long time.
Last year, there were six measles cases in Texas — four of which were in Harris County. There was also an investigation into a case of whooping cough in the crowded capitol building in 2019.
This school year, nearly 73,000, or 1.35 percent, of Texas students opted out of getting at least one required vaccine for nonmedical reasons, according to data from the Texas Department of State Health Services. That number does not include homeschooled children.
Allison Winnike, president and CEO of the Immunization Partnership, a Texas-based nonprofit aimed at eliminating vaccine-preventable diseases, told Texas Monthly that although the state could make the coronavirus vaccine mandatory, her group believes it will probably be voluntary.
There are three levels of vaccine interventions: voluntary, mandatory and compulsory. At the compulsory level — most feared by anti-vaxxers — a judge's rule can force someone spreading an infectious disease like tuberculosis through the community to be taken into custody and forced to get the vaccine.
Right now, these decisions lie in the hands of Texas legislators.
Groups like Immunize Texas hope the coronavirus pandemic will serve as a point of reflection, especially to state lawmakers who aren't convinced of vaccines' importance.
"Right now, everyone is feeling anxiety about coronavirus and seeing how it's affecting communities, and there's a strong desire for science and medicine to fill the gap. It's at the forefront of everyone's collective consciousness," said Jinny Suh, leader of Immunize Texas.
Suh's group is gearing up for what they expect will not be an easy legislative session next year.
"Immunize Texas is very interested and supportive of this vaccine, with full awareness of the safety and precautions that are needed," Suh said. "We want it as soon as possible, but it can't be rushed to market at the risk of the safety of those who will receive it. We want and expect it to be tested the same way every other vaccine is tested. But it's important to talk about it right now because it's not an issue that is going to go away. Anti-vaxxers haven't lost their steam in the face of the coronavirus. It's too important."