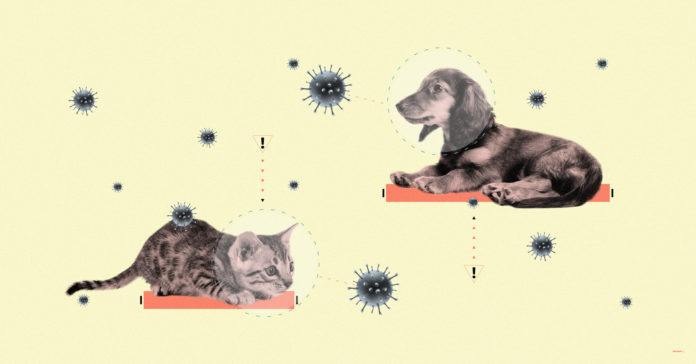 You may be cooped up at home with your pets as COVID-19 surges in Texas, but is the dog park a safe place for your dog to visit right now?
Last week, a two-year-old dog in Tarrant County tested positive for coronavirus after it was tested as a precautionary measure when its owners also tested positive. 
This news of the first confirmed animal COVID-19 case in Texas may leave Texans worrying: how much of a risk does the virus pose for my dogs or cats? What should I do to protect them?
Veterinary experts all echo common advice for Texans: it's rare for pets to get the coronavirus, so don't worry.
"At this time, the CDC reports that a household pet is at risk for contracting SARS-CoV-2 if it has come in close contact with a person infected with COVID-19," said Dr. Susan Rollo, veterinarian and epidemiologist at the Texas Animal Health Commission. "It's important to note that only a small number of pets worldwide, including cats and dogs, have been reported to be infected with the SARS-CoV-2, the virus that causes COVID-19 in humans."
Veterinary experts and health officials from TAHC, the Texas Department of State Health Services, and the USDA are handling animal testing as needed. Rollo said the guidance for testing is case-by-case, mainly if there's a reasonable worry after ruling out other respiratory illnesses and if the animal lives with someone who has tested positive.
If your pet is sick with a runny nose, a cough, sneezing, congestion or decreased appetite, call your vet first, Dr. Rollo advised. This is something to keep in mind especially for some breeds, like pugs, which are already more vulnerable to respiratory issues due to their "brachycephalic syndrome," which gives them the appearance of a shortened snout as well. The vet can help you rule out other causes and consult with health officials.
"Pets have other types of coronaviruses that can make them sick, like canine and feline coronaviruses," Rollo said. "These other coronaviruses cannot infect people and are not related to the current COVID-19 outbreak."
Testing involves a similar process as it does for humans with nasal or oral samples, but the requirements for getting a test are very limited, which is why pet owners should contact their vet first if they're worried about a possible infection.
Other instances where a test may be ordered include for threatened or endangered nonhuman primates, other species in zoos or recently imported animals that might have brought a novel virus with them. Many of the lab tests for animals are going through the Texas A&M Veterinary Medical Diagnostic Laboratory, which has labs in other parts of Texas and handles an average of 925,000 different lab tests per year.
If you own an exotic pet such as a ferret or some kinds of hamsters, or even a cat, you might have read about research showing these breeds could be more vulnerable. But Rollo said the advice is the same: watch them closely and take precautions.
"Recent research shows that ferrets, cats and golden Syrian hamsters can be experimentally infected with the virus and can spread the infection to other animals of the same species in a laboratory setting," Rollo said.
As for pet-to-pet transmission or your pet giving the virus back to you, that's also not a huge concern, Rollo said.
Dr. John Howe, president of the American Veterinary Medical Association, told TODAY that dog and cat hair is porous, making it very difficult for viral particles to spread through fur, unlike on smooth surfaces like countertops where the virus can just sit.
So go ahead, enjoy the dog park, but keep your distance.
"The social distancing the CDC is primarily recommending is between pets and people," Rollo said. "If you are sick with COVID-19 or suspect you are infected, restrict contact with your pets and other animals, just like you would other people. See if a healthy family member or friend can help care for your pet, or if you must care for your pet or be around animals while you are sick, wash your hands before and after you interact with pets and wear a cloth face covering just like you would with people."
Rollo also encouraged pet owners to keep pets healthy during this time of quarantine by letting them get plenty of exercise and fresh air, as well as socialization, because isolation — for any reason — could take a toll on their mental or behavioral health.
"Walking your dog is still encouraged for both animal and human health and well-being," Rollo said. "Dog parks provide socialization and exercise for dogs, which is an important part of their well-being. Because there is a small risk that people with COVID-19 could spread it to animals, CDC recommends that you do not let pets interact with people outside of your household, especially in places with community spread of COVID-19."
Texans have plenty to worry about right now, but on this issue, they can take a collective breath — because based on research, your pet is more likely to be a comfort while you social distance than at risk for getting you sick. 
"By the time you went to the vet, consulted with health officials and got an approved test, as well as the results back, the two week time frame for observing symptoms in a pet would have likely already passed," Dr. John Bruker, president of the Texas Veterinary Medical Association said. "The cases in the U.S. have been isolated with animals. Texans should not be that fearful of getting their pet sick or getting sick from their pets."