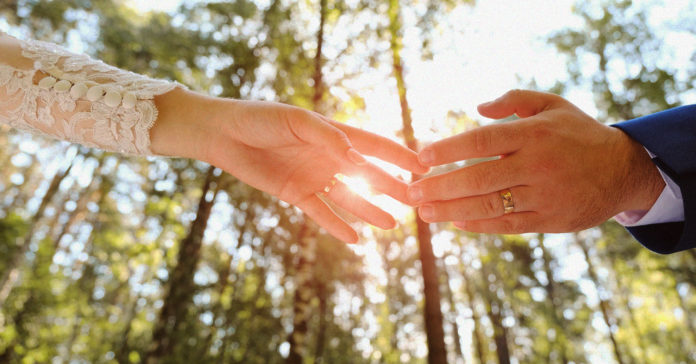 Planning a wedding under ordinary circumstances is typically stressful and has spawned numerous frazzled bridezillas. But planning a fairy-tale event during a pandemic has elevated stress to new heights as couples wrestle with logistics that go way beyond unrealistic expectations, busted budgets and decisions about which guests to seat at the same table.
Brooke Koonsman and Jon Jessen had spent months planning an elegant wedding for 200 guests at a premiere wedding venue in Dallas. As the days drew down toward their May 9 wedding date, it became increasingly evident that stay-home orders would spoil their plans.
After much hand-wringing, the couple pulled the plug a month ahead of time but decided to go ahead with a simple ceremony on their wedding date. With 16 guests, immediate family and wedding attendants, the couple tied the knot and celebrated with a dinner at the home of the bride's parents. A large reception has been rescheduled for a later date.
"I was disappointed, but once we made the decision, it felt right," Koonsman said.
"At first we felt very defeated because everything we tried to plan was canceled left and right," Jessen said. "But it turned out perfect."
The disruption caused by COVID-19 has left thousands of other couples in similar situations as they attempt to navigate nerve-wracking uncertainty about critical matters such as the number of guests they will be able to invite, if out-of-towners would be willing to travel and whether guests would feel comfortable enough to attend.
Even now as Texas continues to advance through the stages of reopening, couples continue to negotiate whether to upend their plans.
"Smaller weddings are becoming more popular, where social distancing is not as restrictive among family members," said Claudia G. De Velasco, lead event planner for A Day To Remember in Houston. "We anticipate social distancing to continue well into the fall."
But many couples are unwilling to give up their dream of a big wedding and are willing to wait until a vaccine or reliable treatment for COVID-19 becomes available.
"We made the decision to wait because we still want the big wedding, and we want everyone to feel safe," said Fort Worth bride-to-be Sarah Akmon. "We've already had a long engagement so we can wait."
Some couples have found rescheduling to be seamless due to supportive venue staff and accommodating vendors. Others have faced problems and additional costs trying to reschedule. 
Like the restaurant industry, the $74 billion wedding services industry in the United States is made up mostly of small businesses that are most vulnerable to failure.  
Between shutdown orders that forced the cancelations of spring weddings and the overwhelming number of couples trying to reschedule summer weddings to later in the year, vendors and venues are reeling from lost revenue.
Debby Jewesson runs a successful Dallas floral design firm catering to high-end wedding and corporate event clients. But facing revenue losses from two back-to-back seasons, she is looking to make some changes. She was able to obtain a federal Paycheck Protection Program loan, which has helped her pay employees even when there was little for them to do.
"The coronavirus has been such a big hit to our industry," Jewesson said.
With the loan money dwindling, she is looking for ways to hang onto her skillful team so she will be prepared when business picks up again. So her firm Branching Out Events will sprout a retail flower business, following the lead of restaurateurs who began selling groceries to supplement income from to-go operations during the shutdown.
Jewesson said she is fortunate that most of her bridal clients are choosing to reschedule rather than cancel their big events in favor of small ceremonies.
But not every vendor has been as lucky. With some couples settling for small weddings with just family and close friends and others scaling back lavish plans due to job losses and pay cuts, vendors are paying the price. Some are refusing to give refunds for cancelations.
"Small businesses are being affected just as much if not more, with the threat of losing businesses, especially with cancellations," De Velasco said. "Empathy and grace are the biggest factors on both sides and we continue to encourage couples to postpone versus cancel.
"We remind couples that while postponing was not their choice, canceling is their choice," she said.
But postponing has posed some unexpected challenges.
When Houston attorneys Chelsea Chan and Ethan Kerstein decided to postpone their August wedding reception until next April, they learned that their venue, the Blanton Museum of Art on the University of Texas campus in Austin, would be closed for renovations next year.
"It was where we had our first date and visited many times," Chan said. "It's a very special place for us."
The two graduates of the UT law school, along with nearly all of their guests, would have had to travel to Austin for the wedding in August, including some flying in internationally.
"There was a lot of stress because of all the uncertainty," she said. "We knew it was the right decision."
The couple chose another Austin venue for the reception but will go ahead with a small marriage ceremony on their wedding date at the Blanton.
"It has really worked out well for us," Kerstein said. "With only 10 people, we can get married in a gallery surrounded by the beautiful art rather than in the atrium as we had planned."