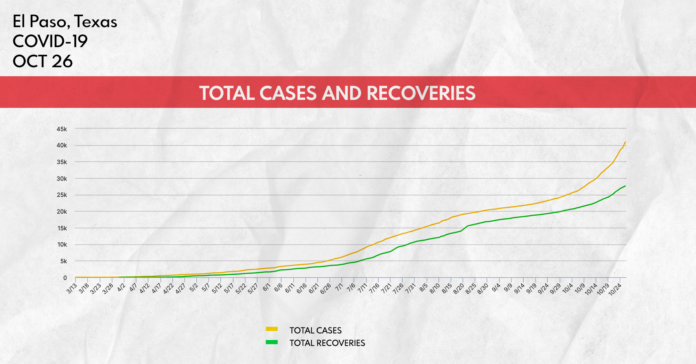 UPDATE: On Monday, the City of Lubbock joined El Paso and Amarillo in announcing occupancy rollbacks due to rising COVID-19 cases and hospitalizations. Bars will have to close and restaurants and other businesses will be limited to 50% occupancy again.
---
El Paso residents are under a curfew and being urged to stay home for the next two weeks as COVID-19 cases and hospitalizations surge out of control there. 
"Today, I amended the County's Stay Home, Work Safe Order which will now include a 10:00pm Countywide curfew. Our hospitals are now at a point where they are overwhelmed and exhausted," El Paso County Judge Ricardo Samaniego announced via Twitter. "I am left with no choice but to take this next step in hopes of seeing some stability in our community and most importantly to save lives."
In addition to Samaniego's curfew, the city of El Paso has asked all of its residents to stay home for the next two weeks, except for accessing essential services.
Over the weekend, Gov. Greg Abbott requested authorization to use the William Beaumont Army Medical Center on Fort Bliss to house non-COVID-19 patients to free up beds in El Paso-area hospitals for COVID-19 patients. When that request was denied, Abbott designated the El Paso Convention and Performing Arts Center as an alternate care site.
In addition, the state and federal governments are sending more medical staffers to provide onsite surge capacity for local hospitals. This includes a fully supplied and staffed auxiliary medical unit that can provide up to 100 beds on site at a local hospital, two 35-person Disaster Medical Assistance Teams and a Trauma Critical Care Team. This is in addition to over 900 medical personnel previously deployed to El Paso.
To further reduce strain on El Paso's hospital system, some hospitals are offering patients needing critical care the option of being airlifted to other Texas health care facilities in Texas.
"This will be a strictly voluntary decision by the patients, and arrangements will be made to bring all patients home to El Paso, read a news release issued by University Medical Center of El Paso. "This option is meant to be used on a limited basis, if needed, and in collaboration with families. Up to 20 patients per 24-hour period may be airlifted."
Amarillo is also taking additional steps to stem its rising COVID-19 caseload and hospitalizations. Amarillo bars are now closed again, and allowable occupancy for restaurants and other businesses has been reduced to 50%.