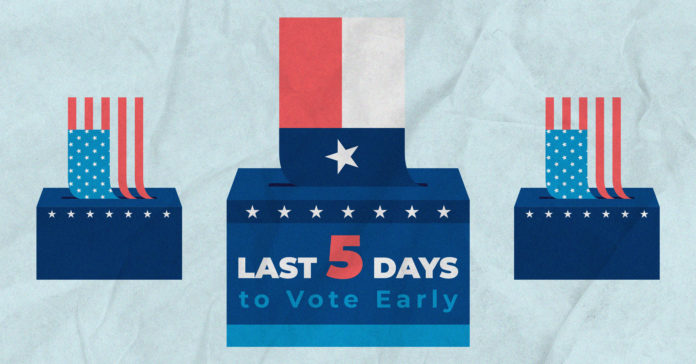 Texas continues to lead the nation for voter turnout. As of Monday morning, more than 7.34 million Texans have already voted, according to the Texas secretary of state. That's about 80% of all of the votes cast during the 2016 presidential election. At that pace and with four days still left of early voting, there are predictions that total turnout in the Lone Star State could top 12 million people, or about 70% of the state's 16.9 million registered voters.
Hays County near Austin is believed to be the first county in the U.S. to surpass its 2016 total turnout. Four years ago, it cast 72,164 total votes. As of Sunday, 73,277 people in that country had already voted.
"Alright Hays County! This is not an outlier. From the Gulf Coast to the Hill Country, to North Texas and beyond, Texans are voting like never before. And you'd better believe they're voting for change," tweeted Harris County Judge Lina Hidalgo.
Harris County surpassed more than one million early votes on Friday, setting a new record for early voting turnout, the Houston Chronicle reported.
There is ongoing debate about which party benefits from high voter turnout in Texas. Complicating the prognosticating is the fact that a high percentage of voters turning out are first-time voters. Nonetheless, both Democrats and Republicans view it positively.
"The energy coming from the Texas electorate during this early voting period is on fire," said Texas Democratic Party spokesman Abhi Rahman. "The enthusiasm and motivation amongst voters looking to make a change and help this country build back better through the ballot box is through the roof. But more must be done if we are to win Texas and elect Democrats up and down the ballot."
"I haven't seen any kind of support or excitement or enthusiasm on the Democrat side," Williamson County GOP chair Steve Armbruster told the Associated Press over the weekend.
Texans have until Friday to vote early.
Early voting is about one week longer than usual due to the pandemic.
Election Day is Nov. 3.