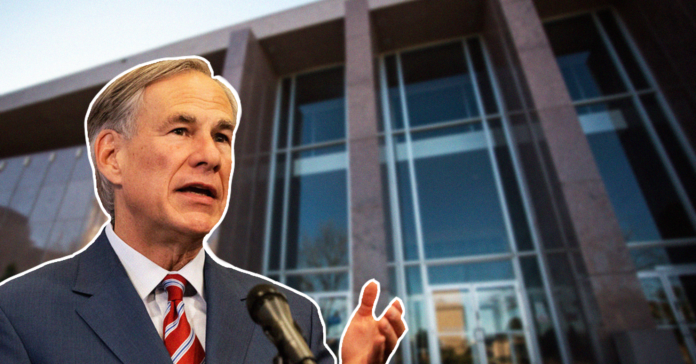 The Texas Supreme Court has temporarily reinstated Gov. Greg Abbott's ban on multiple drop-off sites for mail in ballots in Texas counties — a short-term victory for Republicans. 
The ruling means voters will continue to be limited to just a single drop-off location per county while the court considers the merits of the challenge filed by Democrats. Monday is the deadline for all parties to provide the court with more information, after which they will issue their final decision on the matter — leaving, at most, a single week before Election Day.
"Abbott's egregious order subverts the will of local elected leaders and puts up needless barriers to democracy," the Texas Democratic Party noted in a news release following the court's Saturday ruling. "Now, because of Abbott and the Texas Supreme Court, Harris county (population 4.7 million) and Loving County (population 67) each have just one ballot drop box location."
Large Texas counties, including Harris, Travis and Fort Bend, had told voters they would accept mail-ballots at multiple satellite offices. Harris County had established 11 of these sites. However, on Oct. 1, Abbott, a Republican, issued an order limiting each county to only one drop-off site. 
Several Democratic groups, along with the Anti-Defamation League and the National League of United Latin American Citizens, immediately challenged Abbott's order in both state and federal courts. 
"The impact of this eleventh-hour decision is momentous, targets Texas' most vulnerable voters — older voters and voters with disabilities — and results in wild variations in access to absentee voting drop-off locations depending on the county a voter resides in," LULAC's attorneys argued. "It also results in predictable disproportionate impacts on minority communities that [were] already hit hardest by the COVID-19 crisis."
Abbott's order was initially blocked in Texas district court — a decision that was unanimously upheld by the Texas Third Court of Appeals on Friday. 
Texas Attorney General Ken Paxton immediately appealed the ruling to the all-Republican Texas Supreme Court, which then quickly temporarily reinstated Abbott's ban.
This is not the first time the Texas Supreme Court has stepped in to block attempts to ensure voters' safety and access to the polls. In May, the court ruled that a lack of immunity to the coronavirus does not qualify Texans to apply for a mail-in-ballot. Subsequently, in October, the court stopped Harris County from sending mail-ballot applications to all of its more than 2.4 million registered voters.
At the time of the ruling, Harris County Clerk Chris Collins had said he would reopen the temporarily shuttered drop-off locations "at the drop of a dime."
"Ultimately, anything that's done to decrease voter convenience, to put obstacles in the way of the voter, is voter suppression, and will lead to disenfranchisement," Collins added.
Texas remains one of only a small handful of states that have not permitted universal mail-in voting during the ongoing pandemic.
Four Republican Texas Supreme Court Justices — Nathan Hecht, Brett Busby, Jeff Boyd and Jane Bland — are on the ballot next week.