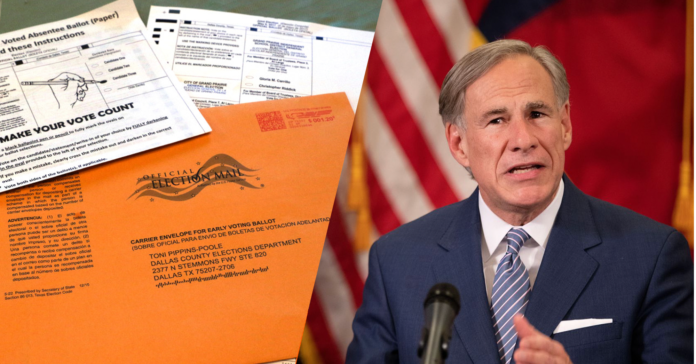 The Texas Supreme Court has OK'd Gov. Greg Abbott's extension of early voting for the Nov. 3 election and denied Harris County's plan to send mail ballot applications to all of the county's 2.4 million registered voters.
Abbott moved the start of early voting to Oct. 13, about a week earlier than usual, in hopes of reducing crowds and giving voters more time to cast ballots early during the pandemic. He was sued by 29 members of his own party who bypassed the lower courts and went straight to the state's high court with their complaints about the governor making such a decision without first consulting with the Texas Legislature.
As they have done for previous election-related cases, the justices opined, with Justice John Devine dissenting, that it is too late to make changes.
"The Supreme Court HOLDS relators' delay precludes the consideration their claims require," the opinion reads. "The election is already underway. To disrupt the long-planned election procedures as relators would have the court do would threaten voter confusion."
In the Harris County case, the Supreme Court found that Harris County Clerk Chris' Hollins plan would violate state election code.
"Because no other election official in Texas is doing or has ever done what the clerk proposes, his plan threatens to undermine the statutorily required uniform operation of election laws across the state," the justices wrote.
Hollins has already mailed applications to all voters 65 or older. He wanted to do the same for all other registered voters in the county regardless of whether they are eligible to vote by mail.
In Texas, voting by mail is restricted to those 65 or older, disabled people and anyone who will be out of their home county during early voting and on Election Day. In a partial nod to the pandemic, the state's high court previously ruled that it is up to each individual to decide whether they meet the definitions and are unable to vote in person. No election official has the authority to question the reason someone requests a mail ballot.