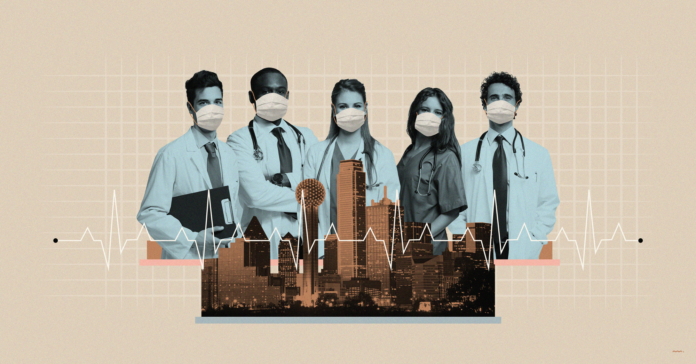 The federal government is providing three Texas cities with Disaster Medical Assistance Teams to help treat COVID-19 patients.
Dallas Mayor Eric Johnson announced Thursday that his city is the latest to get reinforcements from the U.S. Department of Health and Human Services. For now, the federal medical teams will be stationed only at Dallas' Parkland Memorial Hospital.
Our federal partners are sending Disaster Medical Assistance Teams to our region to bolster our medical staffing amid the rise in #COVIDー19 hospitalizations. For now, one hospital in the @CityOfDallas will receive staff.

— Mayor Eric Johnson (@Johnson4Dallas) July 9, 2020
Johnson asked for the federal help. He was joined in that request by Gov. Greg Abbott.
Dallas County Judge Clay Jenkins told the Dallas Morning News that the federal medical teams will work in two-week sprints to give the hospital time to hire more nurses.
"The thing we need right now is nursing," he said.
Federal medical disaster teams were previously dispatched to Houston and San Antonio.
"We've been surging in supplies as well as testing sites to Texas. We've worked with the governor. We're surging in military and HHS medical professionals," said U.S. Secretary of Health and Human Services Alex Azar in an interview with ABC 13 in Houston.
Dallas has been recording more than 1,000 new COVID-19 cases each day for the last week. Like other major metropolitan areas, the city has also been experiencing a record number of hospitalizations.
Both Johnson and Jenkins have been using their social media platforms to push out information about the situation and to urge residents to mask up.
…and follow the safety guidelines & color-coded chart found at https://t.co/Y77tAa3xsG.

— Clay Jenkins (@JudgeClayJ) July 9, 2020
Earlier this week, Jenkins asked Abbott to close restaurants to in-person dining. State Rep. Garnet Coleman made the same request over the holiday weekend.
Texas' daily case count has hovered around 10,000, an all-time high, for the last three days. On Thursday, the state surpassed 100 deaths for the first time. The governor predicted Thursday that the daily death count will continue to rise in the coming days.
Hospitalizations are also hovering in the 1,000 a day range and available ICU beds have dropped below 1,000 statewide.
The state's positivity rate, the number of tests that come back positive, is now in excess of 15%
Thirty to 39-year-olds now comprise the largest number of confirmed cases of any age group, followed by 20 to 29-year-olds.