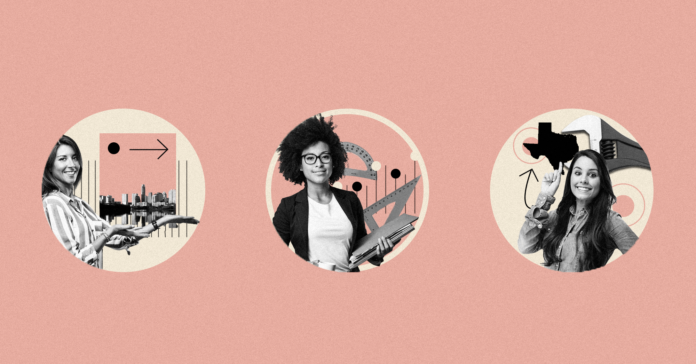 Last week, we shared highlights of the economic hardships women face in Texas based on a 2020 study from the Texas Women's Foundation.
We also spoke with Texas Women's Foundation Chief Operating Officer Dena Jackson about addressing gender inequities and the four pillars of a women's financial security and livelihood, which are education, child care, health insurance and housing.
The foundation offered suggestions on policies that would help the women of Texas, including a paid family and medical leave program, removing barriers to tenant protection and strengthening equal pay for equal work policies that can reduce the income wage gap.
Here Texas state representatives discuss what Texas can do for women during the next legislative session.
Congresswoman Veronica Escobar
Congresswoman Veronica Escobar (D-El Paso) provided a statement about the women's study,
"The COVID-19 crisis has shined a spotlight on our nation's failure to support women and families with policies like equal pay, paid sick leave, affordable childcare, adequate resources for domestic and sexual violence prevention and response, and much more," said Congresswoman Escobar. "The pandemic disproportionately impacts women and their financial security, but especially low-income women of color who are overrepresented in many essential industries."
"More needs to be done for women in Texas and across the country. As a vice-chair of the Democratic Women's Caucus, I am proud of our work to elevate the importance of investing in childcare programs, resources for domestic and sexual violence prevention, and workplace protections."
State Senator Beverly Powell
State Senator Beverly Powell (D-Burleson) serves on the Education and Higher Education Committees and shared this statement in relation to the study.
"Texas women are diverse and skilled yet they continue to be underrepresented, undersupported, and underpaid. Women across Texas face barriers in housing, education, child care, and health; barriers that multiply for women of color."
"It is our job as a state legislature to enact policies that strengthen financial security and independence for Texas women across a broad range of issues," Sen. Powell added. "Supporting women through strong policy is key to keeping communities and families in Texas vibrant and economically strong. My office is committed to looking at the impact of all proposed legislation through the lens of women and specifically women of color."
State Senator Nathan Johnson
State Senator Nathan Johnson (D-Dallas) has authored and supported a number of healthcare initiatives and serves on the Health & Human Services Committee, and provided this statement about the study, "The Texas Women's Foundation report shows us an uncomfortable reality: we have structural and social impediments to gender equity. And that's a profound loss for everyone. The report's conclusions should motivate efforts to improve our economic environment and support systems, particularly those that break down historical and structural barriers to women's advancement."
"I've long advocated for the expansion of Medicaid generally, and particularly for healthcare coverage for post-partum mothers and enhanced prenatal services. Although women with college degrees still earn less than men with college degrees, education, too, is fundamental to advancement. I plan to introduce legislation to promote college completion through supportive internship and mentorship opportunities, and to increase access to affordable childcare."
State Rep. Donna Howard
In relation to the study and equality of health care services in Texas, State Rep. Donna Howard (D-Austin) says, "we know that a person's health status is fundamentally related to their ability to succeed. That is why it is imperative that all women have access to equal and equitable health care services. The report from the Texas Women's Foundation validates the negative relationship between a lack of health insurance and economic success for women. Quite simply, more healthy women translates into more successful women."
Howard has new legislation in the works.
"With the support of the Texas Women's Health Caucus, next session I will be introducing legislation promoting women's health, including the removal of the discriminatory tax on period products as well as allowing girls and young women to access birth control through the Children's Health Insurance Program. The caucus will be focused on ensuring that new mothers have health coverage through Medicaid for 12 months postpartum rather than the current 60 days, and will also be addressing the racial health inequities embedded in our health care delivery system that disproportionately impact women of color."
State Rep. Toni Rose
State Rep. Toni Rose (D-Dallas) provided a statement in relation to the study and its results on that status of affordable health care for women.
"Nationwide, 11% of all women between 19 and 64 are uninsured; however, in Texas, that number jumps to a staggering 23% of all women. When examined by race, the inequity becomes even more transparent. While Anglo and Asian women experience the lack of insurance at national levels, 10% and 11% respectively, 14% of all African American and 26% of all Hispanic women are uninsured in Texas. These pre-coronavirus statistics clearly illustrate the need for the immediate expansion of health care options in Texas, particularly for women."
In the next legislative session, Rose says she plans to re-file House Bill 744, which previously passed the House and stalled in the Senate, to expand state-funded health benefits for new mothers for 12 months after delivery.
State Rep. Ina Minjarez
Investing in women helps the economy, explains state Rep. Ina Minjarez (D-San Antonio), who believes it is imperative that Texas leadership and its business community recognize the significant contributions Texas women make to the state's economy.
"Rather than hinder possible legislation that would ensure women meet their fullest potential in the workforce, legislative leadership should embrace common-sense proven recommendations in this report. If we make the immediate necessary investments required to help women become financially secure, the return on those investments yields a strong Texas economy."
Minjarez has taken a specific interest in further exploring the access to affordable and quality child care.
"Prior to reading this report, I had visited a number of programs in San Antonio which house single mothers and their children — providing wrap-around services to help them overcome substance abuse issues, and help them seek employment so they can become financially secure. The lack of subsidized child day care options continue to be a major concern as many of these mothers are placed on long waiting lists. I will be taking a thorough look into the Texas Rising Star Program to see what I can do legislatively to get more day care centers to opt in, etc."
State Rep. Shawn Thierry
In response to the study, state Rep. Shawn Thierry (D-Houston) shared her intent to make sure the 87th legislative session includes women's rights.
"The Texas Women's Foundation study identifies and details the economic realities facing Texas women. Many of the study's findings are unfortunately not a surprise to women, especially women of color: that women still earn less than their male counterparts, that child care and housing are too expensive, and that health care is inaccessible. In addition, the COVID-19 pandemic has only exacerbated the economic issues women face. With this data, I intend to follow up on my past efforts of championing bills that level the playing field for women. I will continue to press hard for equal pay to close the wage disparities, while pushing for improved access to quality health care, and expanding Medicaid coverage, especially for women after a pregnancy, along with advocating for better public education, and housing options."
"Our state is increasingly diverse and woman-powered, and our state policies and leaders should reflect that fact. Fighting for equal rights for Texas women actually improves the quality of life for all families and business. Despite the pressures of the COVID-19 pandemic, it is my intention to ensure that the 87th legislative session will be productive and positive for women's rights."
State Rep. Celia Israel
"When women succeed, Texas succeeds" said state Rep. Celia Israel (D-Austin) in a statement about the "Economic Issues for Women in Texas" study.
"Texas has much more work to do to support women, especially to support women of color, and the report is evidence of this. Investing dollars in Texas women not only supports the individual, but also Texas families, businesses, and communities at-large," Israel added. "If we enacted common-sense reforms like greater access to high-quality child care, Medicaid expansion, pay equity, and extending Medicaid coverage for new mothers, we would have a much stronger Texas."
State Rep. Anna Eastman
State Rep. Anna Eastman (D-Houston) who has been supportive of education, affordable housing and health care, responded on Wednesday while in the middle of making voter calls.
"As a mother of three children who chose and had the privilege of staying home to raise them, I have a personal appreciation for the lack of value placed on women's work. I have also served in elected positions that require a great deal of personal investment without any compensation. I am prepared to fight for women to have access to benefits that make it possible to pursue the career of their choice and know their families will have access to health care, high quality child care and K-12 schools."
State Rep. Vikki Goodwin
State Rep. Vikki Goodwin (D-Austin) said the study will be helpful to her office while preparing for the legislative agenda for the next session.
"It's frustrating to know that women are twice as likely as men to experience poverty and to see that the gender wage gap is still a very real part of women's lives," Goodwin said. "Every day I speak with or hear from women working to serve their communities and their families. They're innovative and driven. Gender should not be a determining factor for your income level."
As we continue to live through COVID-19, Goodwin believes there are important questions that legislators must respond to in the next legislative session, including how women will work in a COVID landscape and balance child-care needs, and through the pandemic will women be able to access reproductive and preventative health care screenings, many of which are often life-saving. Goodwin said next session, the legislature will have to rethink the state budget, and that education and women's health care are often some of the first recommended cuts.
Goodwin said she plans to refile her bill from last session that would require all high school students to take a one-semester course in personal financial literacy before graduation. The course would teach simple but essential financial lessons including information on credit, taxes, student loans and mortgages.
Goodwin says she is in favor of statewide paid sick leave, and "at the very least, we cannot let any bill pass that would preempt a city's ability to establish their own paid sick leave ordinances."
In the 86th Legislative Session, Goodwin filed a bill to gradually increase the minimum wage to $15 per hour over a period of three years to address income disparities and lift up incomes of those at the bottom of the pay scale. She plans to file this bill again in the next legislative session.
State Rep. Sheryl Cole
State Rep. Sheryl Cole (D-Austin) provided a statement on the study and offered suggestions.
"When given equal opportunity, Texas women can shine. But far too many women face systemic barriers within the system, especially around access to health care and family planning, child care, and affordable housing. A government that works to remove these barriers is not only doing the right thing from a moral standpoint, but is making a smart call from an economic standpoint. I support the policies that will close the wage gap and invest in our working women, like paid family and medical leave, investments in higher education, and expanding Medicaid."
There is still a lot of work to do for Texas women and the disparities they face. Studies such as this one from the Texas Women's Foundation are one way to give women's rights issues a voice. Other ways are for you, as Goodwin suggests, to reach out to your legislators to voice your support for the issues that deserve attention and to testify before committees on issues that are important to you.
Reform Austin also reached out to several Republican state lawmakers for this story. So far, none have responded. We will update the story if more responses come in.