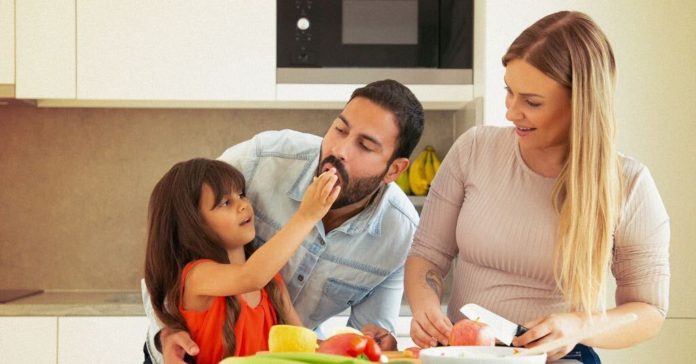 Juggling a workload, a virtual classroom and lunch will be a circus for many families this school year. Here are four easy meals to whip up so at least lunch is done.
Feges BBQ owners Patrick Feges and Erin Smith have a 20-month-old son.
"Their dinners are very simple when they get home from the restaurant," publicist Lindsay Brown said in an email this week.
Here is one of the Feges' favorite recipes.
Loaded Potato Salad
Idaho potatoes, 10
bacon (cooked, chopped) 1.5 cups
sour cream, 1 cup
shredded cheddar cheese, 1 cup
green onion (medium dice) ¼ cup
bacon fat (**yield from cooking bacon above**)
Salt and pepper, to taste
1. Preheat oven to 350 degrees.
2. Peel the potatoes and cut into two pieces. Place in a pot filled with water to prevent browning on the potatoes while you finish peeling and cutting all potatoes.
3. Boil the potatoes until fork tender. Remove from water and let cool.
4. Meanwhile, cook bacon in a 350-degree oven on a sheet pan until crispy. Let bacon cool, separate out and reserve bacon fat and chop the bacon into small pieces.
5. Mix together potatoes, bacon, sour cream, cheese, green onion and bacon fat, being careful not to overmix the potatoes and keeping everything chunky. Season to taste.
6. Serve warm with some cheddar cheese and green onions as a garnish or serve chilled with green onion garnish.
[Photo: Feges BBQ. Photo Credit: Robert Jacob Lerma]
Grilled Cheese Sandwiches
This easy, delightful grill cheese sandwich takes just 20 minutes to make in total, including prep time, and you only need three ingredients. It's a kid-friendly classic for all ages.
5 tbsp. butter, softened, divided
4 slices sourdough bread
2 cups of shredded cheddar
In a skillet over medium heat, melt the butter in the pan, add the bread, buttered side down, and top it with the shredded cheese. Cook the sandwich until it is golden.  Do the same thing for the next sandwich. Serve the sandwich with your favorite salad or your child's favorite snack. To see the yummy results, visit Delish.com.
Turkey Burgers
You could make this recipe for 12 patties to get you through the week. Heat one up in the microwave for a quick lunch.
3 pounds ground turkey
¼ cup of seasoned bread crumbs
¼ cup finely diced onion
2 large egg whites, lightly beaten
¼ cup chopped parsley
One clove garlic, peeled and minced
One tsp. salt
¼ tsp. pepper
Mix all the ingredients in a large bowl. Form into 12 patties. Cook the patties in a medium skillet over medium heat, turning once, until the patties have an internal temperature of 180 degrees Fahrenheit. See how the burgers turn out on Allrecipes.com. 
Add these easy french fries or try one of 50 simple salad ideas.
Antipasto
Looking for something different? Try antipasto lunch plates for kids with a combination of meats, veggies and cheeses. Add yogurt pretzels, grapes, sliced apples or cucumbers. Here are some kid-friendly charcuterie recipes. Even better — have the kids help put the platters together. 
One more tip: When it comes to sides and snacks, pre-pack your kids' favorites the night before in small snack bags that can be kept on the counter or fridge, ready for the next day.