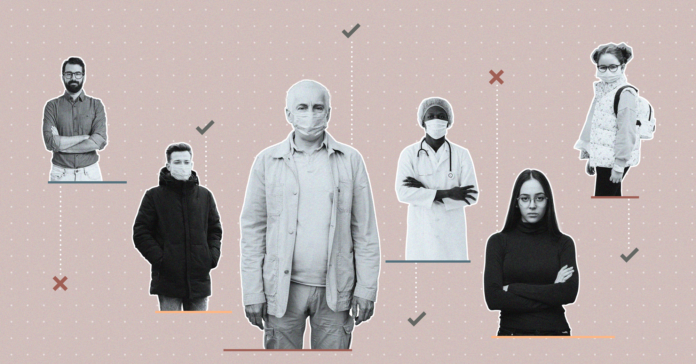 Nothing shows our political differences in the Lone Star State more than the current disagreement over wearing masks. Some see wearing masks as government intrusion. Others see it as a sign of respect.
Two experts explain how wearing a mask went from being a tool for saving lives to also being a symbol of political sides.
"Every generation conveys its shared struggles and memorable triumphs through symbols. Sometimes those symbols are venerated as icons, sometimes they are rejected in collective resistance, and sometimes these symbols are themselves the battleground for how the future will remember the present," said Richard Albert, the William Stamps Farish professor in law and professor of government at the University of Texas at Austin.
"This third variation is where America now finds itself with wearing masks amid the COVID-19 pandemic. For some, wearing a mask is both a recognition of the gravity of the public health emergency and a way to protect themselves, their loved ones, and the strangers they encounter.
"For others, being told to wear a mask sounds and feels like a form of social control, some might say manipulation, in the face of a little-understood virus that leaders can exploit to plant the seeds of fear of a dystopian world. Future generations seeking to understand the values of voters in 2020 might do well to begin with the mask."
Another key to understanding who wears masks and why is political leaders' examples.
"If politicians of one political stripe or the other don't wear masks, their partisan-following publics won't either. This phenomenon demonstrates how actions matter for politicians," said University of Houston political science professor Brandon Rottinghaus.
Even health announcements can be perceived in political ways, Rottinghaus said.
"Partisan politics in the pandemic means attention to different political news. If the message from the outlets is not the same, the American people won't be following clear health directives since some politicians take the pandemic less seriously," he said. "The polarization of health decisions (staying at home, wearing a mask) has led to uneven adherence to health guidelines and inadequate enforcement from government. If politicians inject partisanship into challenging health guidelines, medical recommendations, or simple facts about the spread of the virus, people will be confused."
Lorena Watson, a psychology lecturer at Texas State University and a psychotherapist said, "When there are disagreements among presumed leaders, it puts people in a state of confusion. We are social beings with a desire to blend in as a mode of survival. When the strategies for survival are not agreed upon, it can create apathy in people."
"There's a fear of negative judgment if you wear a mask or if you don't. This creates more angst in the nervous system and thus more conflict because we are irritable and scared," said Watson."Unfortunately, the politicizing of public health leaves many constituents confused, afraid, and outraged with no clear guidance on what is true, useful, or even legal."
While debating a coronavirus bill, some Texas Republican lawmakers were seen not wearing masks, and some believe the coronavirus has been part of a culture war in Texas. On Wednesday, during a news briefing in Amarillo, Gov. Greg Abbott was seen wearing a mask for the first time during his updates on COVID-19 and reopening Texas.
Former Houston Mayor Annise Parker voiced her view Tuesday on Twitter.
"Masks aren't muzzles, they speak of our concern for the lives of others. Masks aren't political statements, they are statements of our belief in science. Masks aren't a sign of weakness, but of respect for the lives of others."