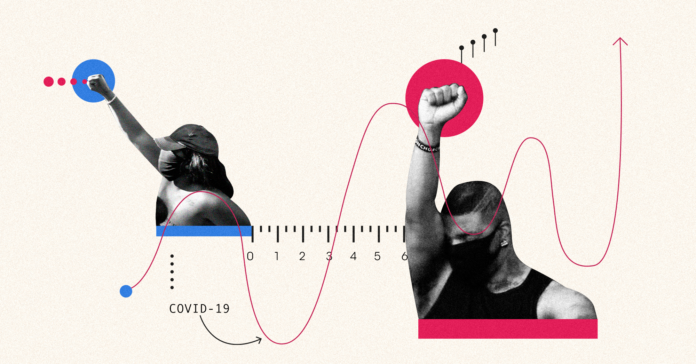 Following a week of protests over the death of George Floyd, there are renewed fears among health officials of a rise in COVID-19 cases.
People are coming out of their homes where they have been cooped up for months to join with others to protest the death of Floyd, who died May 25 in Minneapolis, and who has Houston roots.
Across Texas, people of all ages have come out by the tens of thousands — even those who are more likely to become severely ill from the virus if they catch it have decided to not sit still.
While protests and moments of silence continue, health officials and political leaders are encouraging Texans to think of their health and safety while protesting.
"We support the community's right to express themselves, especially during the recent events and against ongoing injustices," said Dr. Umair A. Shah, executive director of Harris County Public Health and a member of the Texas Medical Association Committee on Infectious Diseases. "COVID-19 remains an ongoing threat to our community, and if you are sick, belong to a high-risk group for COVID-19 infection, or live or work with someone who is high-risk, we suggest you do not attend these events in-person."
"You should consider safely protesting from within your car, donating to organizations, or using social media platforms," Shah wrote in an email to Reform Austin Thursday.
Houston Health Department Medical Director Dr. David Persse said in an emailed statement on Thursday, "any mass gathering, especially those with people in close proximity without masks, increases the likelihood of COVID-19 transmission."
"Given the virus' incubation period and test turnaround time, it will be a few weeks before we see data to indicate whether there is an increase in cases that aligns with the timeline of the demonstrations," he said. "I'm hopeful we will not see a sharp increase as it appears many of the demonstration participants are wearing masks. The fortunate aspect is the demonstrations are occurring outdoors, where respiratory virus transmission generally occurs less than it does indoors."
Persse said people who attend demonstrations should be aware many people infected with the coronavirus can spread it before they have symptoms.
"They are most likely to spread it to those closest to them, including family, friends and neighbors," he said.
Persse and Shah said to wear your mask to protests and other events and to maintain a physical distance of 6 feet or more to both protect oneself and to prevent further community spread of the virus.
"Demonstrators should wear a mask over their nose and mouth the entire time. Although it's challenging in a demonstration environment, social distance as much as possible," Persse said.
"We continue to encourage any person who was in any group setting where social distancing was not maintained, especially if they were in close proximity to people without masks, to get tested for COVID-19."
"Attending any mass gathering during a respiratory virus pandemic comes with risk. But the Houston Health Department recognizes the significance of this moment in our collective history and encourages people to express their right to demonstrate while taking safety precautions," Persse said.
While using your right to protest during a pandemic, along with wearing a face covering, consider eye protection and use signs instead of yelling while in groups, as COVID-19 spreads through respiratory droplets in the air. And stay hydrated.
Instead of handshakes and hugs and high fives, "try fist or elbow bumps as an alternative. Bring hand sanitizer and use it frequently, especially after you touch surfaces or fist bump," Persse suggested.
Shah also said to get tested approximately 5 days after attending these events (getting tested any sooner than 5 days risks false negatives or inaccurate results).
"If you start to develop COVID-19-related symptoms, self-isolate and contact a health care provider."