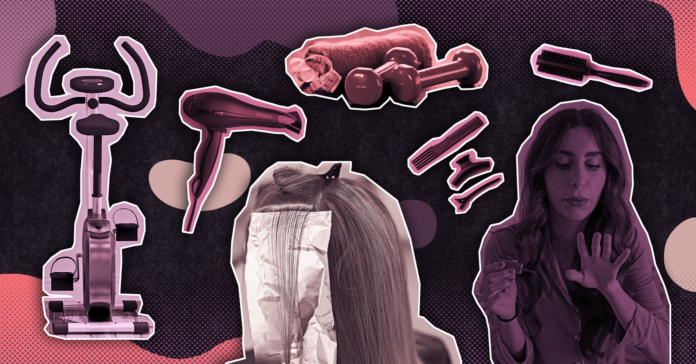 Texans and others have shifted from rushing to stores to get toiletries, cleaning products, pasta and hand sanitizer to scrambling for other supplies. Beauty and grooming, fitness and wellness products are current must-haves.
We are in the "hair color" phase of staying home amid the coronavirus pandemic, Walmart CEO Doug McMillon said on the "Today Show" earlier this month.
"The Dow is down, but big-box retailers like Walmart are doing well," said co-anchor Savannah Guthrie.
Hair salons and hair stylists have been taking a financial hit since Gov. Greg Abbott made an executive order for "nonessential" businesses to close to in-store customers. Salons have been using digital strategies, and some of their clients are trying to color and cut their hair at home.
Denton, Texas-based Sally Beauty was ready for this. For the last 18 months, the retailer had been ramping up its digital side in preparation for ship-to-store and same-day delivery options, Jeff Harkins, vice president of investor relations and strategic planning at Sally Beauty Holdings Inc., said on the phone Tuesday.
So when the coronavirus hit — even though people weren't expecting it — the beauty supply chain could adapt quickly as digital demand took off.
"The demand is so high — it's a bottleneck of orders," Harkins said.
The chain has 1,200 stores doing curbside and ship from store orders.
Sally Beauty had 5 percent digital sales before the pandemic, and now it's all digital, Harkins said.
Sally Beauty had supplies hospitals and post offices needed as well.
"We have sold essential items, gloves for hair color, and sanitizer products and masks," Harkins said.
No marketing or promotion has been needed while stores were closed, although their social media presence is stellar.
"We are way ahead of the game, from a social media perspective," Harkins said.
Salons
Hair salons and stylists have been taking a financial hit, the Dallas Morning News reported. But as their clients try to cut and color their own hair, some Texas salons are trying to help.
Austin-based hair salon Luxe is connecting with clients through social media and selling hair care products.
Also in Austin, Wheelhouse Salon is encouraging clients on Instagram to purchase gift cards.
Tribe Salon in Fort Worth has great videos on-at-home haircuts.
Want to help your barber or stylist? Esquire offers these tips.
Little Luxuries
Affordable luxury does well during a recession as consumers seek indulgences and shopping comfort to appease their emotions of stress and anxiety, CNN reported. This includes all kinds of things such as nail polish, mascara, ice cream and chocolate.
The world's largest cosmetics company, L'Oreal, said in a recent financial report that its first-quarter sales showed a decline in the cosmetics market of around 8 percent. However, its first-quarter sales report showed other sectors booming.
"Facial skin care has also slowed, while in contrast facial cleansing, hygiene, hair care and above all home-use hair color are accelerating, to the benefit of Garnier in particular in the final weeks of March."
"The category most affected by the crisis is makeup, while skincare and fragrances are proving more resilient, reflecting consumer demand for products linked to well-being and personal care," L'Oreal said in its report.
Home Spas
The milk + honey spa, which has locations in Austin, Houston and Fort Worth, is holding classes via Instagram.
BeautyBio, headquartered in Dallas, boasts a line of science-based skin care products and is sharing at-home beauty tips on Instagram such as using an ice cube to give your skin a radiant appearance.
Want to get a face mask or exfoliator? Here's a list of DIY masks so you can have a spa day at home.
At-home Gyms
With gyms closed, Texans have been adding to their at-home gear, the San Antonio Express-News reported.
Such equipment was already doing well before the coronavirus outbreak, but now it's selling even better, said Tom Cove, president and CEO of the Sports & Fitness Industry Association. Sports equipment in all categories — balls, apparel, footwear, gym equipment — are seeing huge sales.
Sports equipment has been flying off shelves, the Houston Chronicle reported.
Ruckify, a rental platform for renting anything from board games to camping equipment, wants to help fitness stores make revenue through the pandemic by renting out their equipment, according to KXAN.
Loungewear
Staying at home is good news for digital brands of loungewear and sleepwear, WWD reported. And working from home means home office clothing — neat, casual and simple clothes and brands in those areas, especially in e-commerce, might see "pockets of positive shopping online," WWD reported.
Papercity magazine shared tips for Texans on dressing for work while working from home.
Consumers are aware, more than ever, of what is available. At the end of March, Fox Business reported soaring athleisure and loungewear sales because of the coronavirus. Retailers that keep replenishing their goods will win, said Strategic Resource Group Managing Director Burt Flickinger.
More Hair Tips
The Atlantic has a story about how quarantine and isolation can inspire testing out hair dye.
These hair coloring tips from "Good Morning America" may inspire you.
However, before you pick up the scissors or waxing strips, you may want to check out this advice from the Wall Street Journal.