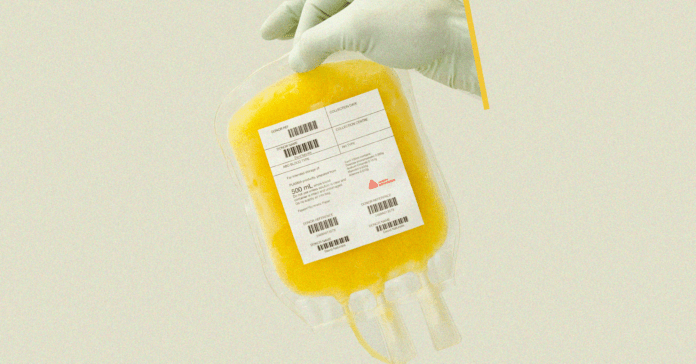 If you have tested positive for COVID-19 and are fully recovered, you can help those who are still fighting for their lives.
Across the nation, including here in Texas, there is a shortage of convalescent plasma needed to help treat COVID-19 patients. Demand for convalescent plasma has more than doubled over the last month as the number of COVID-19 cases and hospitalizations increased. Today, blood banks are making an urgent appeal for recovered COVID-19 patients to register to be plasma donors.
"From May to July, in Houston alone, we saw a 523% increase in convalescent plasma usage," stated Gulf Coast Regional Blood Center Vice President of Operations Theresa Pina in response to Reform Austin's questions. "Because of that significant increase, we spend a lot of time educating the community about the need and who is eligible to donate."
The need is so bad in North Texas that the area's main blood center, Carter BloodCare, was having to rely on donations from New York, where there are more people in recovery.
"We are desperate, and people are dying," said Dr. Donna Casey, an internal medicine specialist at Texas Health Presbyterian Hospital Dallas in the Dallas Morning News.
"This is the perfect time to ask the public to please help our community, our families and our friends," Casey said.
So, who is eligible to donate?
Donors must have had a prior diagnosis of COVID-19 documented by a laboratory test, be otherwise eligible to donate blood, and have fully recovered from COVID-19, with complete resolution of symptoms for at least 14 days.
The process of donating convalescent plasma is very similar to donating blood. The plasma is collected through an automated process that separates plasma from other blood components, then returns your red blood cells and platelets to you. This process continues until a target amount of plasma has been collected. One donation of plasma can help three or four patients. The process takes about an hour.
Most Texas blood banks are testing all donations for the COVID-19 antibody. This test is being performed in addition to the standard testing all blood donations receive. Donors who test positive for the antibodies will be invited to return and make a plasma donation. The antibody test is to detect the presence of antibodies and is not meant to be a diagnosis of COVID-19.
Pina stressed that it is important to know you can't just show up to donate convalescent plasma. You will need to fill out some paperwork and schedule an appointment.
If you are in the Houston area, visit giveblood.org and complete the online form. Someone from the blood center will contact you to ensure you meet the qualifications and will ask for a copy of your positive COVID-19 test results. Once qualified, you will be scheduled for a donation at a location convenient for you. 
In Dallas, contact the Carter BloodCenter. 
If you live in San Antonio, you can schedule an appointment with the South Texas Blood and Tissue Center. 
We are Blood is the nonprofit blood bank in Austin. 
In the Rio Grande Valley or El Paso, reach out to Vitalant.  
Elsewhere in Texas, contact your local blood bank.
Matthew Burnside and his wife agree they made a mistake when they traveled to New York in the spring with their daughter. All three of them contracted coronavirus. Now recovered, they are using that mistake to help others. Burnside has donated plasma three times and has a fourth donation scheduled for Saturday, he shared in the Dallas Morning News. His wife, Claire Aldridge, has also donated.
"When you realize you've gotten COVID because of an ill-advised trip, you think what can I do to get something positive about this?"
"Also, I didn't want to feel sorry for myself," she said. "This was about taking control, making it into something positive and good."