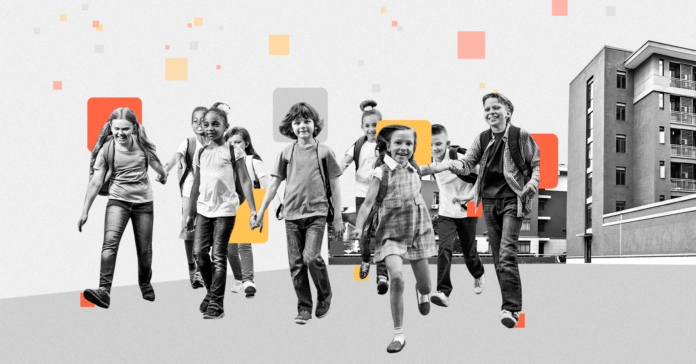 If you were imagining your child wearing a mask or gloves while in school this coming year, you may be surprised to learn that while personal protective equipment, including masks and gloves, will be distributed to schools, their use will not be mandated. According to the latest information from the Texas Education Agency, one million face shields and 600,000 gallons of hand sanitizer have also been ordered.
If this news makes you uneasy, the state is offering districts the option of offering virtual instruction.
On Tuesday, the TEA Texas Education Agency had been expected to announce guidelines for school districts to follow for the 2020-2021 school year, and share virtual learning statistics, but the announcement was canceled.
Draft documents Reform Austin found on a non-public facing portion of the TEA website Tuesday provide suggestions for districts, but little in terms of specific requirements, leaving the bulk of the decision making up to individual districts and schools.
TEA Commissioner Mike Morath said in a conference call Tuesday to bear in mind they are still draft documents. "It's a rapidly changing public health situation, so we are unable to give final guidance today on on-campus instruction," he said.
The draft document addresses regulations for safely opening schools this fall based on research from the Centers for Disease Control that found that "while children do get infected by COVID-19 and some severe outcomes have been reported in children, relatively few children with COVID-19 are hospitalized or have severe symptoms."
The guidance addresses:
– On campus and virtual instruction
– Administrative activities by teachers, staff, or students that occur on school campuses or virtually
– Extracurricular sports and activities
– Any other activities that teachers, staff, or students must complete that cannot be
accomplished virtually
– Visits by parents and the general public
There are four areas the TEA recommends districts keep in mind to reduce the spread of COVID-19: notice, prevention, response and mitigation.
Based on the draft document, school systems will be required to post a summary of the plan they will follow to mitigate COVID-19 spread in their schools, for parents and the general public, one week prior to the start of on-campus activities and instruction.
TEA recommends that school systems designate a staff person or group that is to respond to COVID-19 concerns or all school staff and families.
Attendance and Enrollment
The draft states students must attend 90% of a course (with some exceptions) in order to be awarded credit for the course and/or to be promoted to the next grade. This requirement remains in force during the 2020-21 school year.
Any parent may request that their student be offered virtual instruction from any school system that offers such instruction, the draft document states.
During the conference call Tuesday Morath laid out the plans on attendance and distance learning. Here is more on the option of remote learning during the 2020-2021 school year that was prepared by TEA in mid-May but released today.
Screening
The draft states that when individuals are questioned about their symptoms for COVID-19, "school systems must only require a "Yes" or "No" answer.
"School systems are not entitled to collect information during screening on the specific health information of an individual beyond that they are symptomatic."
School systems should require teachers and staff to self-screen for COVID-19 symptoms before coming onto campus each day, the draft document reads.
"The self-screening should include teachers and staff taking their own temperature. Teachers and staff would report to the school system if: (a) they have come into close contact with an individual who is lab-confirmed with COVID-19; or (b) they themselves have COVID-19 symptoms."
The draft document states that at the start of every week of on-campus instruction, school systems should screen all students to determine if they have the COVID-19 symptoms or have had close contact with an individual who is lab-confirmed with COVID-19.
Parents may be verbally screened during dropoff. "The screening questions should also be asked of a student's parent if that parent will be dropping off or picking up their child from inside the school."
If Infected
Any individuals including students, teachers and staff who are diagnosed with COVID-19, may return to school when all three of the following criteria are met, the draft states.
No fever for at least three days
Improvement in symptoms
At least ten days since symptoms first appeared
The draft document says schools must immediately separate any student who shows COVID-19 symptoms while at school until the student can be picked up by a parent or guardian.
If your child has been in school and is infected with COVID-19, the school must notify the local health department.
Health and hygiene.
The draft document states that schools should attempt to have hand sanitizer and/or hand washing stations with soap and water at each entrance as well as in every classroom.
Schools should also arrange for cleaning of commonly-touched surfaces in classrooms.
In addition, students should be instructed on hand washing and other hygiene on the first day of school.
Masks
The TEA recommends districts consider having students wear masks or face shields at times when they will be in close proximity to other students for an extended period.
"For students in first grade and above, the determination of whether wearing a mask is developmentally appropriate is up to the student's parent or guardian," the draft reads.
Classroom setting
It is not a requirement but where feasible it is recommended that students practice social distancing with desks placed a minimum of six feet apart, when possible.
Drop off and pick-up
The guidance says campuses "should plan for entry, exit, and transition procedures that reduce large group gatherings of students or adults and consider staggering school start and end times.
Lunch
Districts are encouraged to consider "having students eat lunch at their desks" or use dividers on cafeteria tables.
Individually plated meals with disposable food service items are also recommended.
Bus
Hand sanitizer, face masks and open windows are recommended for school buses.
Alternatively, families are encouraged to utilize carpools or walk to school.
Reform Austin reported on Monday that some teacher groups believe there should be higher standards for safety for reopening schools and that it is wrong that the state isn't requiring face masks.
There have been situations where there haven't been soap and paper towels in bathrooms in normal times at school, explained Zeph Capo, president of the American Federation for Teachers, during an interview with FOX 26 in Houston today. "We can't go back to those practices this fall," Capo said.
Parents are already reacting.
One concerned parent wrote on Twitter Tuesday, "Will a student in remote learning be in a session with students who are attending in person? Will a student in remote learning be offered the same possibilities for AP and Pre-AP courses as students attending classes on site?"
Another parent asked on Twitter about what happens if your child is infected with the illness, "What duty or obligation (if any) do parents have to inform the school that they or their kids have tested positive? What if parents decide not to tell the school?"
On social media there is concern from parents about sanitation and social distance protocols, that seem near impossible to imagine for elementary age, one parent wrote, "Seems like my child's life will be filled with stress while she's at school."
This story will be updated as more information is known.