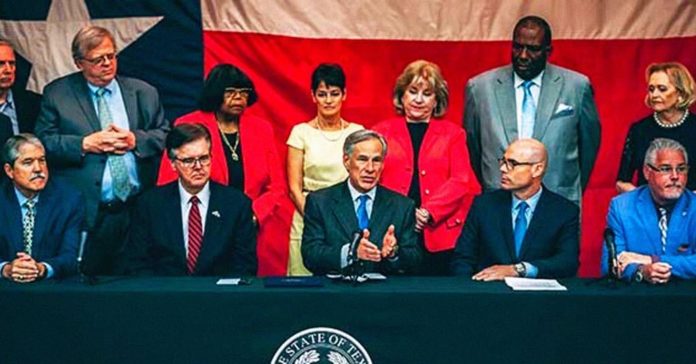 Harris County is asking Gov. Greg Abbott to extend the deadline for counties to receive mail ballots. Texas GOP Chair Allan West is out with a statement criticizing Harris County's request and criticizing Abbott for extending early voting for the November election. And conservative activist Steve Hotze and GOP nominee for Texas House District 2 Bryan Slayton are suing Abbott over the early voting extension. It was a crazy Friday in Texas politics.
"This draconian order is contrary to the Texas spirit and invades the liberties the people of Texas protected in the constitution," reads the lawsuit which was first obtained by the Austin American-Statesman. If the courts allow this invasion of liberty, today's circumstances will set a precedent for the future, forever weakening the protections Texans sacrificed to protect."
As he did for the July primary runoffs, Abbott has extended early voting for the Nov. 3 election by about a week to reduce crowds and keep the spread of COVID-19 down. In-person early voting will now begin on Tuesday, Oct. 13 and continue through Friday, Oct. 30.
While Hotze and company fight in the courts to prevent you from having more time to vote early during the pandemic, Harris County Clerk Chris Hollins is hoping there will be more time for people to get their mail ballots in.
"In addition to keeping in-person voters safe during the ongoing crisis, we must also turn our attention to the expected significant increase in eligible Texas voters casting their votes by mail," Hollins wrote to Abbott. With the recent news reports of delays by the post office, Hollins wants voters to have until Nov. 9 to get in their mail ballots, which would be almost a week after the election.
The request brought a swift rebuke from West and the Republican Party of Texas. They want Abbott to say no, writing, "The Republican Party of Texas asks that Governor Abbott deny this absurd request by Harris County Clerk Chris Hollins and preclude the progressive socialist left from implementing their designs to undermine our democracy and election integrity."
There's been no word from Abbott on any of the requests yet.