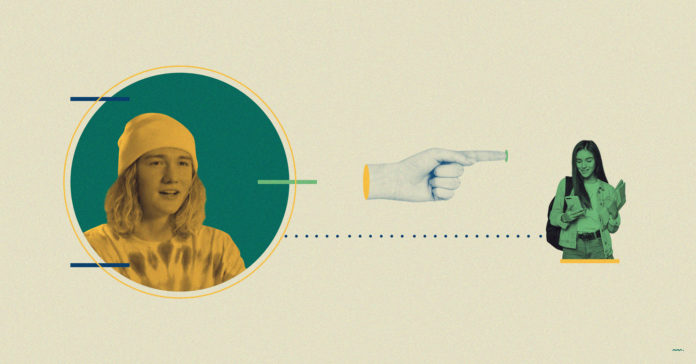 In a yellow hoodie with a dinosaur on it and with his signature blond hair, Dallas-Fort Worth social media influencer Parker James is the creator and star of a popular TikTok commercial. James appears as a childish character named StEvEn and is the new face of the Texas Department of State Health Services's efforts to stop the spread of the coronavirus.
Parker digitally manipulates his face and uses a voice-changing filter to create the character, which is an extension of himself and has garnered over 6 million followers.
James, 19, and other influencers are part of a DSHS campaign to provide education on health and safety in a fun and memorable way to an important demographic during the coronavirus pandemic.
TikTok users typically are between the ages of 13 and 24, and this age group is a prime target for the DSHS COVID-19 safety precautions as the school year begins.
Chris Van Deusen, director of media relations for DSHS said in an email to Reform Austin on Monday, "DSHS is trying to get messages on preventing COVID-19 to people in a variety of ways, including TV and radio advertising, digital/online ads, and social media influencers."
"Younger people have generally been harder to reach through our campaigns over the years, but we have had success doing that through influencers. We work with an advertising agency to identify and screen influencers who can successfully deliver the message."
In the comedic video, StEvEn lines up a bunch of cute stuffed animals, all wearing masks and tells them how to stay safe during the pandemic. He starts by saying, "I'm so proud of you buddies, wearing the mask and doing the social distancing." After one stuffed animal asks about taking off his mask, StEvEn says abruptly "no" and explains that the coronavirus pandemic is "transmitted through the eyeballs, nose holes and the mouth."
StEvEn asks, "Does everybody have their backpacks and hand sanitizer?" Adding some humor, he says,"This hooks on your backpack — it's probably vanilla, and it smells good."
The video posted in early August has generated over 5.2 million views and covers staying six feet apart, washing your hands and wearing your mask while social distancing during the pandemic.
"This coronavirus craziness will be over before we know it," StEvEn says before the video ends.
James said the state is paying influencers thousands of dollars to educate the younger generation, but he wanted to be involved and gave the state a "discount."
Parker and his zestful character StEvEn were featured on Good Morning America, where he explains how he has grown his brand quickly.
The DSHS has also collaborated with Olympic gymnast and Plano resident Nastia Liukin. In her video released in July, she promotes wearing a mask. She says, "because wearing a mask is easier than doing this," then Liukin does flips and handstands on her kitchen counter. She teaches the viewer how to properly wear a mask and says, "to my fellow Texans, we got this, let's stop the spread together."