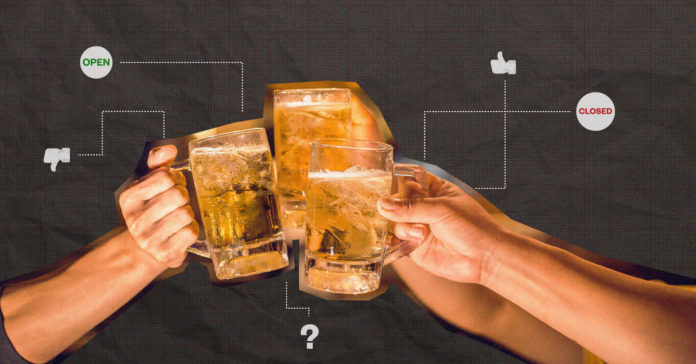 One Texas city isn't planning to enforce Gov. Greg Abbott's latest executive order, which closed all bars and similar businesses that make at least 51% of their sales from alcohol but still allows take-out orders.
Abilene City Manager Robert Hanna said in a statement on Friday, "The City of Abilene under the advice of the City Attorney, will not enforce the Governor's Executive Order, BUT we encourage all business owners and citizens to use common sense, and to follow the Governor's Executive Orders to the extent they can. In regards to bars and restaurants, TABC will likely work to enforce the Governor's Executive Order."
The Texas Alcoholic Beverage Commission is continuing enforcement efforts. Agents visited 628 bars across Texas Friday night. Of those, 30 bars were found in violation of the governor's executive order.
"After TABC agents spoke with management and provided them with the executive order, 28 bars agreed to shut their doors," a press release from TABC states.
So far, two bars have been issued 30-day permit suspensions, including the Whiskey Girl in Abilene. The first infraction results in a 30-day license suspension, and a second would result in a 60-day suspension.
TABC has an email and hotline for concerned citizens to report possible violations. Email complaints@tabc.texas.gov, call 1-888-THE-TABC, or use the free TABC mobile app for Apple and Android devices.
Shelley Luther, the Dallas nail shop owner who was released from jail after Abbott modified an earlier stay home order is now lashing out at the governor for what she views as his new discriminatory order for bars.
Abbott's order says restaurants may remain open for dine-in service, although capacity is limited to 50% starting Monday.
"At this time, it is clear that the rise in cases is largely driven by certain types of activities, including Texans congregating in bars. The actions in this executive order are essential to our mission to swiftly contain this virus and enhance public health," Abbott said.

While Abbott limits capacity, he has expanded his order to now allow the sale of mixed drinks to-go in Texas.