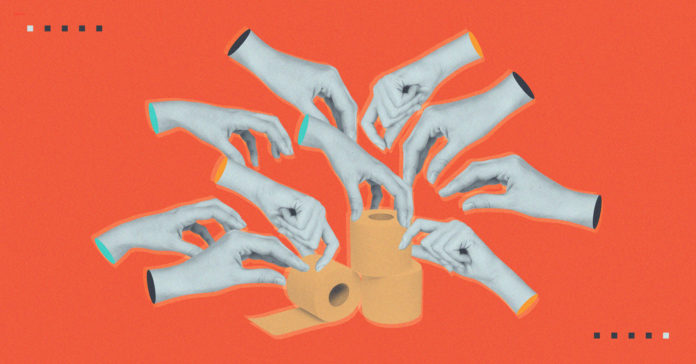 It's happening again! Texans are picking grocery store shelves clean of toilet paper, paper towels, milk, beans, rice and other products.
This past weekend, Texas surpassed a million coronavirus cases, making the Lone Star State the only state, so far, to reach that grim threshold. The nation as a whole has cleared 10 million cases, more than any other country in the world. 
Health officials have warned that Texas is headed into a second wave of COVID-19 that could be far worse than the first wave we experienced in the spring and summer. The coming holiday season, more family gatherings, colder weather, and more people indoors for longer periods of time, are combining to provide the perfect environment for COVID-19 cases to spread rapidly.
According to data from market research firm IRI, 16% of household cleaning products and 19% of paper products such as toilet paper and paper towels were out of stock during the week ending Nov. 1, CNN reported.
Kroger has started limiting purchases of disinfecting wipes, toilet paper and paper towels for in-person and online purchases.
H-E-B has set toilet paper and paper towel limits for its stores in the Rio Grande Valley, Central Texas, Gulf Coast and San Antonio regions. Below are restrictions for every store.
H-E-B's limits on TP and paper towels are currently in effect only for its Central Texas stores. The following restrictions apply at all H-E-B stores in Texas:
disinfecting and antibacterial sprays – limit 2
disinfecting and antibacterial wipes – limit 4
hydrogen peroxide – limit 2
rubbing (isopropyl) alcohol/swabs – limit 2
first aid and cleaning gloves – limit 2
trial & travel size disinfectant wipes/sprays – limit 2
Across the country, grocery stores have limits on bath tissue and paper towels.
Here's more coverage on shopping during the pandemic.