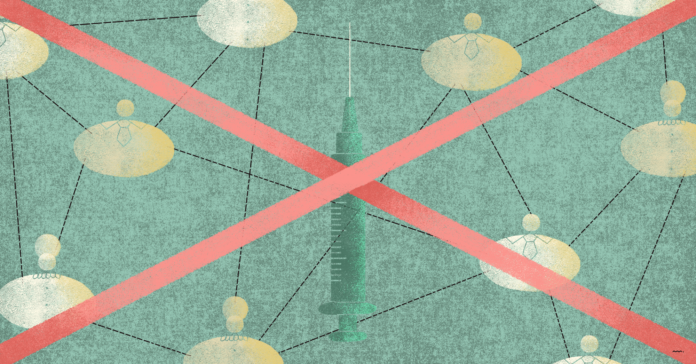 Texans for Vaccine Choice has launched a campaign against contact tracing initiatives in Texas. The group is concerned about medical information they believe should be private and that participation in programs to track health data should be by explicit consent only, according to the group's website.
Contact tracing isn't anything new, but it's been controversial during the coronavirus pandemic. Similar to detective work, contract tracing involves time and patience for tracking where an infection or disease started, by asking questions about where a person or patient has been and who they have been around. Similar measures have been used for tracking sexually transmitted diseases. 
"People who were around the case, potentially exposed to COVID-19, are called contacts," the Texas Department of State Health Services website states. "By tracing the contacts of COVID-19 cases, getting them into quarantine, and when necessary, testing them for infection, we can slow the spread of coronavirus."
It isn't a cheap method of containing a disease. In Texas, the statewide contact tracing method has cost $295 million dollars. The program hasn't reached its participation goal and has had a bumpy start.
Texans for Vaccine Choice, which lobbies against vaccinations, wrote the following on Twitter: "Many of our members have reached out to us concerned about the contact tracing program being pushed by Governor Abbott."
The tweet links to a sample letter to send Abbott, to use as inspiration or to copy directly. It starts, "Governor Abbott, With so many Texans suffering financially, why are you spending $300 million on a 'temporary' program aimed at alleviating this single outbreak that, according to your own data, is disappearing without any sort of surveilling intervention?"
The assertion about the coronavirus is incorrect. In fact, the numbers of new cases and daily infection rates in Texas are on an upward trend. 
"The government should stop thinking its job is to keep everyone healthy, and instead focus on protecting our rights," the anti-vaxxers' website states.
Rep. Jonathan Stickland (R-Bedford) tweeted last week about the anti-contact tracing movement. 
"Big Pharma has been exposed. Their opposition grows bigger & louder daily as the economy comes back/COVID numbers drop without their untested vaccines being forced on us," he posted.
Jinny Suh, leader of Immunize Texas, a grassroots organization dedicated to promoting immunization in Texas, said contact tracing is a crucial part of a successful strategy to control the spread of COVID-19 and "should absolutely be used in the efforts to keep COVID-19 at a manageable level. This is a public health tool that has been used for decades without much opposition until now."
"However, the previous methods relying on in-person interviews, painstakingly reconstructed schedules, and the labor-intensive process of following up with potentially exposed individuals is insufficient given the speed at which COVID-19 can spread," Suh wrote in an email to Reform Austin on Tuesday.
Suh said the focus should be on developing the technology to respond to exposures more quickly and with agility.
Suh said it's understandable why there are concerns about privacy and mentioned the novelty of adapting smartphones to become contact tracing data points.
"Instead of focusing on ensuring that privacy concerns are addressed with appropriate policies and protocols, they just want to shut off any chance at even trying to design an effective, appropriately designed contact tracing app. Unfortunately, that approach isn't constructive and could lead to an even more dire consequence of people suffering and dying. … A pandemic of this size and scale forces all of us to face difficult decisions. It is understandable to have questions and demand solutions that take into account multiple concerns. However, putting our heads in the sand and doing nothing is unacceptable and harms people."