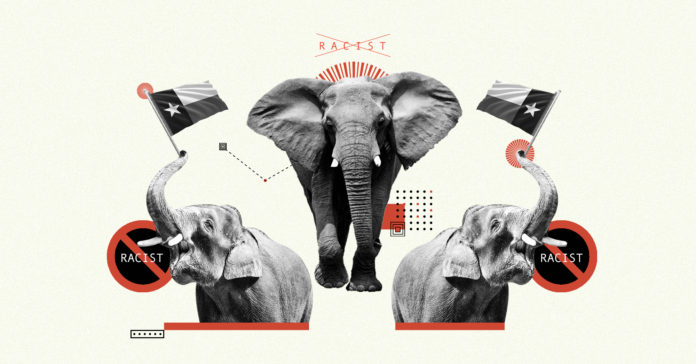 In the midst of mass protests over the death of Houstonian George Floyd while in Minneapolis police custody, some Texas Republicans have chosen the moment to post racist and inflammatory things on social media. Those moves have led to an unprecedented backlash from their own party members, including calls to resign. Whether it is a genuine rebuke in the name of morality or a calculated political move — or both — is a question many are asking.
Twelve Texas Republican officials have been accused of racism, anti-Semitism, and conspiracy theory-mongering in their social media posts — implying that black people are monkeys, that the protests are a new world order plot by billionaire George Soros, and that the killing of Floyd was staged.
Gov. Greg Abbott, Lt. Gov. Dan Patrick and others have called on some or all of these officials to resign. Only one has done so. The rest have merely deleted their offensive posts or moved on to new conspiracy theories.
Most of the 12 are generally small fish within the Texas GOP, but there is at least one big fish. Unlike his counterparts further down the food chain, Texas Agriculture Commissioner Sid Miller hasn't deleted any of his posts, including one claiming that Soros orchestrated both climate change and the current movement against police brutality. As of now, there have been no calls from the GOP leadership for Miller, a major force in Texas politics, to resign.
All of this leads back to the question of what is motivating the GOP in its sudden willingness to call out relatively minor officials for the sort of posts that have been the daily bread and butter for members to feed to their base for years.
Some of it could be the sense of change in the air, particularly when it comes to state politics. The GOP managed to hold on to all major statewide offices in the 2018 midterms, including the high-profile senate battle between Ted Cruz and Beto O'Rourke, but the party lost an enormous number of judicial seats as well as the District 7 Congressional race.
Then there is recent polling. As Reform Austin reported last week, a Quinnipiac University poll shows that President Donald Trump and former Vice President Joe Biden are essentially neck-and-neck in the state. A Biden win could cost Sen. John Cornyn (R-Texas) his seat as well if Texas turns blue in the presidential election, which is enough reason for the GOP to throw minor members under the bus in a show of racial progressivism.
Even former Republican President George W. Bush has said he will not be supporting Trump, and the Texas resident's opinion still carries a lot of weight.
Political scientists are looking at these protests as a pivotal moment in American politics. Not only is there widespread opposition to American law enforcement, typically a stronghold for conservatism, but it also comes at a moment of mass unemployment during a pandemic that has killed more than one hundred thousand Americans, mostly the elderly and minorities.
Lee Drutman, author of "Breaking the Two-Party Doom Loop: The Case for Multiparty Democracy in America," explained how this tipping point mimics other movements that brought sweeping political change in the Middle East in an article on FiveThirtyEight.
"Most likely, Senate and House Republicans will eventually find a way to defend Trump's actions, as they have done before (remember the impeachment trial?)," he wrote. "Trump may not be perfect, they may say, but the Democrats are much worse. This is the prevailing rationalization of our zero-sum politics. But in moments like this, when nobody knows exactly what to say or do, a few unlikely public critiques of Trump could have a surprising cascade effect. And if the president continues to transgress widely shared democratic values — putting congressional Republicans in an increasingly difficult electoral position — we may yet see a consequential crack in the Republican Party."
Caught between a rapidly shifting political environment and continuing to appeal to the base that has kept them in power, Texas Republicans find themselves walking a tightrope. The sheer scale of the #BlackLivesMatter protests have made it politically unfeasible to let members spread certain memes without criticism, but with an election coming up, they cannot afford to alienate their staunchest supporters, many of whom may feel these sorts of posts are exactly the response needed. Time will tell how much the GOP leadership's response to the protests helps or hurts them.