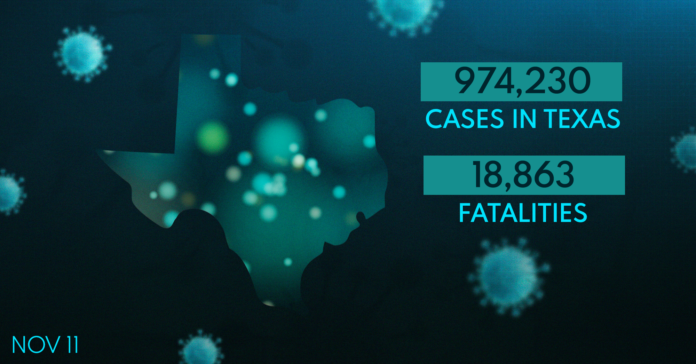 Remember when Lt. Gov. Dan Patrick offered to sacrifice senior citizens to COVID-19 for the sake of getting the economy open again? Well, a check of the numbers shows Texas has had more COVID-19 deaths than any other state in the nation, except New York, and 80% of our 18,863 fatalities have been people age 60 and above.
Tuesday marked the highest single-day total for new COVID-19 cases in Texas, 10,865, which broke the previous daily record set back in July. Hospitalizations are also rising, as is the number of tests with positive results.
Texas has surpassed a million total COVID-19 cases, more than any other state, the Houston Chronicle reported this week. That number was based on their independent analysis. John Hopkins University's tracking site also indicates Texas surpassed a million cases on Tuesday. The numbers cited in this story are provided by the Texas Department of State Health Services tracking site, which shows a total of 974,230 cases since the start of the pandemic.
Regardless of whether the total case count is at a million, just under a million or more than a million, all of the reporting sites indicate the COVID-19 situation in Texas is not going in the right direction. With Thanksgiving just two weeks away, government and health officials are worried that the worst is yet to come.
"We are 7-10 days away from reaching our highest COVID hospitalization census to date if we do not immediately renew our resolve and change our behaviors," Dallas County Judge Clay Jenkins said in a written statement provided to the Dallas Morning News.
In Houston, the city health department is urging everyone to limit in-person holiday gatherings to household members only.
"This virus thrives on gatherings and will take advantage of holiday festivities to sicken our loved ones and further spread in our community. Although the holidays will look and feel different this year, making smart choices could save the lives of the people you love," said Mayor Sylvester Turner.
Celebrating virtually or with members of your own household poses the lowest risk for spread, according to the U.S. Centers for Disease Control and Prevention. In-person gatherings that bring together family members or friends from different households, including college students returning home, pose varying levels of risk.
If possible, socialize in an outdoor space. If indoors is the only feasible route, the CDC recommends avoiding crowded, fully enclosed and poorly ventilated spaces.
Additional precautions such as wearing masks and using hand sanitizer throughout the duration of the gathering are also great ways to keep your loved ones safe. Avoid touching your face, and try to stand at least 6 feet apart from anyone outside of your household.
More advice from the CDC is available here.