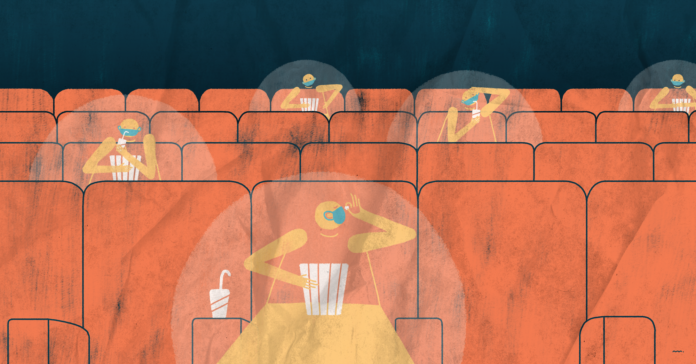 After being dark for more than two months, movie theaters are beginning to reopen in Texas.
Movie theaters were part of Texas' first phase of re-opening on May 1, but the big theater chains opted to stay closed.
Why? There was nothing to watch.
In a world where opening box office numbers dictate a film's success, many major studios have been hesitant to release bankable blockbuster films out of fear of low ticket sales.
Even if production had not halted, Hollywood studios cannot release a film until it can be shown in the major cities, and most U.S. cities have been in lockdown.
Now, here in Texas, we are beginning to see a handful of theaters open back up to the public.
Plano-based Cinemark is doing a phased reopening, starting with its theaters in the Dallas area, which opened last Friday.
To limit capacities and promote social distancing, when a Cinemark guest selects a seat for a movie online, two seats on either side of it are automatically blocked off, the Dallas Morning News reported. The company is also implementing extensive sanitizing procedures in high-touch areas and in between screenings, and requiring customers and employees to wear masks.
AMC plans to open its Texas theaters on July 15, right before the release of the new Christopher Nolan movie, "Tenet," on July 17. AMC had initially planned to make masks optional, but it reversed course following mandatory mask orders put in place in all of Texas' major metropolitan areas.
Regal Crown Cinema is set to reopen July 10.
Austin-based Alamo Drafthouse hasn't announced a specific date for its reopening, but it has said that it will require masks and temperature checks upon entry.
In San Antonio, Santikos Entertainment did take advantage of the opportunity to reopen four of its theaters back in May. A fifth venue is slated to open Friday.
Movie theaters are hoping Nolan's action-thriller will be another blockbuster for the Batman trilogy writer-director and reignite their profit margins, but the damage may have already been done. The ubiquity of streaming services and the decline in ticket sales sparked discussion over the relevance of movie theaters today. The pandemic has only served to exacerbate the already tenuous situation.
Cinemark, which closed all of its U.S. locations in mid-March, reported a loss of $59.6 million in the first quarter of the year. It's a setback that "continues to impact us today," said Mark Zoradi, Cinemark's CEO.
Movie theaters are putting in place health and safety procedures they hope will assuage concern. Whether moviegoers will take the risk remains to be seen. After all, sitting for two hours in an enclosed space is very different from running to the grocery store for necessities, where no single person is lingering.