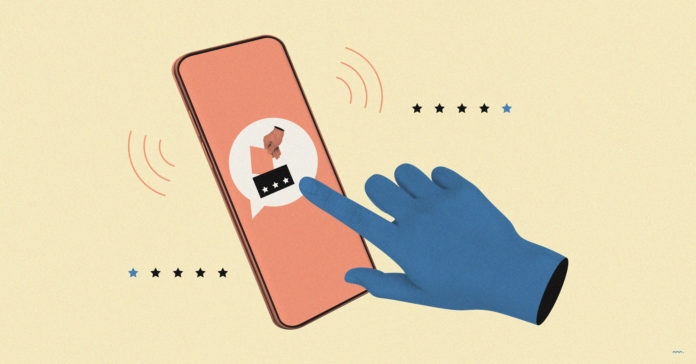 Texas voters this week started receiving robocalls from Donald Trump Jr. encouraging them to apply to vote by mail, Politico reported. Not only is the Trump campaign urging Texans to vote by mail, it is also sending vote-by-mail applications to thousands of handpicked voters. At the same time, Texas Secretary of State Ruth Hughs, a Republican, has ordered Democratic-led Harris County to stop doing exactly what the president is doing.
"Voting absentee is a safe and secure way to guarantee your voice is heard," Donald Trump Jr. says in the robocall. "Help President Trump make America great again by joining him in being an absentee voter this year."
President Donald Trump, who will vote by mail himself, has been saying for months that increased voting by mail would be rife with fraud. Back in May, he tweeted that there is "NO WAY (ZERO!) that Mail-In Ballots will be anything less than substantially fraudulent," and definitively declared that "This will be a Rigged Election."
Just this week at the Republican National Convention he said voting by mail will result in widespread fraud that will help Democratic presidential nominee Joe Biden.
Among those surprised by the robocall is the Texas Democratic Party, which has been fighting Texas' GOP leadership in the courts to win expanded vote-by-mail privileges for all Texans during the pandemic. TDP spokesperson Abhi Rahman is accusing the president of hypocrisy.
"The president, his campaign, and Texas Republicans have sought to undermine one of our country's most sacred institutions, voting," stated Rahman. "For months now the president has railed against doctors and scientists who support an expansion of our vote-by-mail system during our current pandemic. He has taken to Twitter to falsely accuse the country's vote-by-mail system as fraudulent, and sabotaged the country's postal system. Now, he's trying to convince his supporters to vote by mail only when it benefits him."
Harris County, meanwhile, has been given a Monday deadline to halt its plan to send mail ballot applications to all 2.4 million of the county's registered voters.
In a letter to Harris County Clerk Chris Hollins, a Democrat, first obtained by the Houston Chronicle, Texas Secretary of State Election Supervisor Keith Ingram writes, "By sending applications to all voters, including many who do not qualify for voting by mail, your office may cause voters to provide false information on the form."
State officials began looking into Harris County's plan following complaints from state Sen. Paul Bettencourt.
The letter goes on to include the following, "At a minimum, sending an application to every registered voter will confuse voters about their ability to vote by mail."
In Texas, you are eligible to vote by mail if you are 65 and over, are sick or have a disability, are confined to jail or will be outside your county during early voting and on Election Day. A ruling from the Texas Supreme Court earlier this year leaves it up to the individual to determine whether they have a disability. Your county clerk has no responsibility to question or investigate your application.

You can obtain more information on what you need to do to make sure your vote counts in November in this Reform Austin resource page.