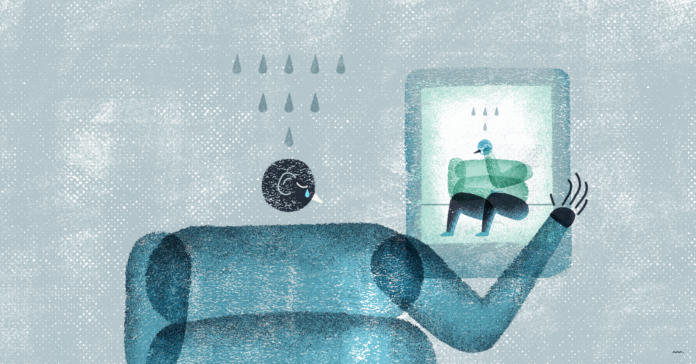 It's easy to feel an abundance of stress or anxiety in uncertain times.
Normal daily schedules have been disrupted. Working from home and other changes for families and individuals may be weighing on your mental health.
Here two experts share how to cope in uncertain times.
Calls to statewide mental health hotlines have increased greatly.
"It's bittersweet to learn about the significant uptick in the community accessing mental health services. To put things in perspective, any demand placed upon a person is considered a stressor, and we are in the midst of living through one of the most historical stressors in our lifetime," said Dr. Millie Cordaro, a developmental psychologist and clinician. She has been on faculty as a senior lecturer in the department of psychology at Texas State University since 2008.
"For those individuals who are already managing an existing mental health issue or someone who has a psychological vulnerability to potential mental health issues, such as depression and or anxiety, stress is the number one culprit for triggering those symptoms," Cordaro wrote in an email to RA News Thursday.
"The coronavirus pandemic has created significant levels of uncertainty, and uncertainty leads to increased stress," Dr. Jaclyn Cravens, assistant professor of couple, marriage, and family therapy at Texas Tech University, also wrote in an email Thursday.
"Many individuals are grieving the loss of a loved one due to COVID-19 or the loss of employment; however, there are other ways people are grieving — the cancelation of travel plans or life events, separation from family due to geographical distance or increased risk factors for COVID-19, and the normality of our pre-pandemic lives."
The pandemic is an international disaster, and disasters commonly lead to increased levels of stress, anxiety and depression.
"Due to the quarantine, many people have lost routines and aspects of their self-care, with so many locations that offer leisure and entertainment being closed. Therefore, people are stressed, scared, grieving and feeling alone. All of this combined can contribute to significant suffering for our mental health," Cravens said.
Cordaro said one of the main implications of managing the pandemic has led to sweeping and significant social disruption.
"Collectively, we are experiencing an insidious trauma or secondary trauma. People's social connections, activities, outlets and coping mechanisms have been stripped away in order to flatten the curve. We are social beings, and we as humans have inherent needs to connect, to belong. We are not built to live in a vacuum, in isolation. If you think about social support as a central coping tool, many people have been forced to go without it."
"Anxiety is a future oriented emotion, and under ordinary circumstances, it helps us to anticipate and prepare for future situations. I am observing others struggling with a newfound anxiety related to the pandemic," said Cordaro.
Anxiety can start to feel disproportionate to the situation at hand. This would be when an individual is no longer able to carry out their necessary responsibilities and duties due to an overwhelming fear or worry.
Coping
"While it can be difficult due with how inundated we are with discussion about the coronavirus, the first step individuals can take is to focus on what is in your control and give less space to worrying about those that you cannot control," Cravens said.
Cravens suggests establishing a new routine during the quarantine or safe at home phases of the pandemic. Identify what you can do to help yourself feel safe, and recognize that each person's needs for safety will potentially be different (and that's OK). Create a list of things or activities that are enjoyable and possible to do during quarantine.
Also Cravens suggests practicing mindfulness — "the purposeful practice of staying in the 'here and now' present moment with nonjudgmental acceptance. Mindfulness during the pandemic would mean that any thoughts related to worrying about the future would be recognized as future-focused and uncontrollable, and you would use techniques (deep breathing, guided relaxation, 5 senses) to bring you back to the present moment."
Reach Out
"Most importantly, reach out to others. Make time to stay connected with friends and family, even if only over text messaging or phone calls. If your mental health is struggling, locate resources such as mental health textlines or therapists who provide teletherapy services that can be accessed conveniently from home," Cravens suggests.
It's a Journey
Researchers have found a statistically significant connection between economic recessions and poor mental health outcomes, Cravens said. Specifically, concerns over unemployment, pay reductions and increasing financial debt lead to higher rates of depression, anxiety, substance use and suicidal behaviors.
"There also is a connection between how mental health disorders impact work productivity and absenteeism. Therefore, as we begin to think about recovering from the pandemic, we must realize that many individuals are going to be struggling with their mental health and considerations over rebuilding the economy and helping individuals get back to work will not be enough to care for individuals."
Cravens said a holistic approach that considers an individual's physical and mental health will be the only way to properly heal from the pandemic.
"This means individuals will need access to resources to support the care of their mental health, but there will be significant barriers such as financial limitations, loss of insurance due to unemployment or living in a mental health professional shortage area."
While some individuals will struggle through the pandemic, others may demonstrate resilience and stress-related growth, Cordaro said.
"I want to add that being resilient is something that everyone can strive toward. That doesn't mean being perfect and stoic; instead, it means we can efficiently use our coping skills and possibly have moments where we thrive in the face of adversity."
"From a clinical standpoint, it's important to think about one's strengths, resources and talents that have helped individuals cope with previous life challenges. In other words, I recommend thinking about your healthy and adaptive coping strategies that have worked before, and being very intentional with using them as needed," Cordaro said.
"While self-care does include taking a bath, going for a walk, or journaling, self-care can also involve making the call to set an appointment to see a mental health professional," Cordaro suggested.
"It's important to think about ways to cope with stress that individuals can practice long-term, show positive benefits and have enduring effects over time," Cravens wrote.
Families
"The one angle that I would like to emphasize here is the importance of parents taking good care of themselves so they can in turn provide social and emotional support to their children," Cravens said.
Through these uncertain times Cravens suggested that families should communicate about ways they want to live during the pandemic, considering how they will manage disagreements about steps that make them feel safe.
"This will require compromising and being compassionate about each member's unique needs. Create and establish a daily routine for the family to stick to — children even more than adults need structure, as this can reduce anxiety and parent-child conflicts," Cravens said.
Cravens also suggests reducing time spent watching the news or reading about the pandemic nonstop, having age-appropriate conversations with children and teenagers about the pandemic, and being aware of symptoms of mental health concerns and seeking out technology-assisted mental health services if needed.