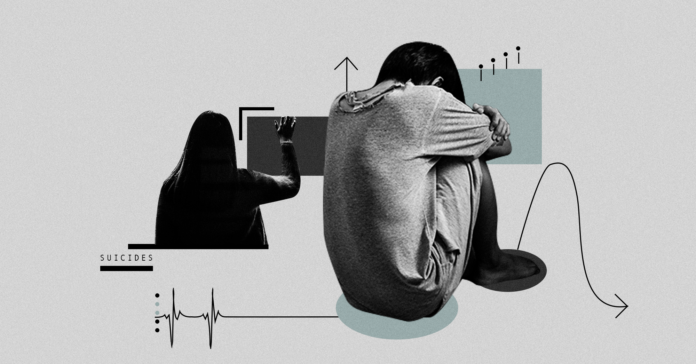 The pandemic is not just a physical health crisis. It can also be a behavioral health emergency.
"Our willingness to confront and address our worsening behavioral health challenges will go a long way toward determining how quickly and successfully Texas recovers from the damage unleashed by COVID-19 — and how well we can meet our state's ongoing mental health challenges further exposed by the pandemic," Joe Straus wrote in an opinion piece for the Houston Chronicle this week. 
The former state representative from San Antonio who served as speaker of the Texas House from 2009 to 2019, wants the Texas Legislature to address Texans' mental health needs when the governing body convenes in January.
Before the pandemic, on average, one person died by suicide every two hours in Texas, according to the 2019 Texas Suicide Fact Sheet from the American Foundation for Suicide Prevention. Also, suicide is the second leading cause of death for people ages 15-34 in the state. 
And at this time, people have additional stressors such as job losses, isolation, strains on relationships and the pandemic itself.
"Symptoms of depression and anxiety are often exacerbated in solitude and isolation. During times of uncertainty, fear, and anxiety, it is more important than ever to nourish your relationships and stay connected to the people in your life," said Cami Fields LMSW, director of outreach and education at the Grant Halliburton Foundation. The foundation, based in the Dallas area, educates students on the warning signs for suicide, how to ask tough questions and what to do if a friend tells you they've been thinking about suicide.
"Research from the Centers for Disease Control and Prevention shows that a sense of belonging and connectedness are protective factors against suicide. The value of connection and its impact on our mental health cannot be overstated," Fields wrote in an email to Reform Austin.
Improving Mental Health
Even during this global pandemic and social justice uprisings, Fields said, it is imperative that you take care of your mental health and be kind to yourself. 
"The number one trigger for depression is high stress levels, so practicing healthy stress management is crucial. Research shows that simple self-care practices can have a positive impact on your mood and mental health."
Fields advises trying to exercise regularly, get rest, unplug and unwind, practice gratitude, express your emotions, talk to a therapist, or do something you enjoy like crafts or a hot bath.
"Self-care may seem trivial when there is so much turmoil in the world, but the better we take care of ourselves, the more resilient we will become," she added.
Dr. Jaclyn Cravens, assistant professor of couple, marriage, and family therapy at Texas Tech University, said job loss along with the fear of living in a world with a life-threatening virus can lead to an increase in suicidal ideas and behaviors.
"The outbreak of SARS-CoV-2 has created a number of exceptional stressors related not only to the fear of contracting a life-threatening virus, but to the consequences of the pandemic. Millions of individuals in the United States have lost their jobs, businesses are at risk of bankruptcy, and people are stuck at home with no clear indication of when the pandemic will be under control."
"Unfortunately, as we see such a drastic increase in stressors, individuals have lost access to many of the ways in which they would cope with stress with so many places and events being closed or canceled. These are all risks that potentially can lead to an increase in suicidal ideation."
Dr. Cravens points out that the pandemic has meant social distancing, but keeping ties is key during these abnormal times.
"We are all in this pandemic together, which may create a sense of connectedness despite the isolation of stay at home orders. With so many people isolated from work colleagues, friends, and family, we all should be intentional about checking in on the people in our lives. Maintaining social ties is a way to cope with the uncertainty and pandemic-related stress, she said.
Cravens encourages others to spend time connecting with their friends or family because it presents an opportunity to take a break from thinking about the pandemic– even if it is a virtual hang out.
Resources
Dr. Cravens believes Mental Health centers should continue to look for unique funding opportunities related to developing creative solutions to protecting individuals mental health during the pandemic and ensuring access to services such as crisis lines and teletherapy services.
The U.S. Department of Health and Human Services has made some initial efforts to provide funding during the pandemic to address both physical and mental health needs, Cravens said.
"For example, last month the Substance Abuse and Mental Health Services Administration released a funding opportunity announcement for research focused on COVID-19 Emergency Response for Suicide Prevention Grant. What is unique about this funding opportunity is unlike most grants, once the grant is awarded, funding will be made immediately available for use. FEMA is another entity making federal funding available to address crisis counseling needs."
Grant Halliburton Foundation's website offers a variety of resources to help adolescents and adults during this time. The foundation also has a pandemic resources webpage, which includes a library of mental health education mini-lessons for youth and adults. 
"These videos cover a wide range of relevant topics including coping with stress and nurturing connections," says Fields.
Here For Texas, another foundation program, offers free tools to help North Texans find mental health and addiction information and resources.
HereForTexas.com is a website with a searchable database of Texas providers designed to help you make informed decisions about mental health care.
The Here For Texas Mental Health Navigation Line is a helpline that offers people personal assistance with finding providers and resources that match their needs. Help is just a phone call away at 972-525-8181, from 10 a.m. to 6 p.m. Monday-Friday.
The National Suicide Prevention Lifeline is a network of local crisis centers that provides 24/7, free and confidential support to people in suicidal crisis or distress. Call for yourself or someone else at 1-800-273-TALK (8255), or contact the Crisis Text Line by texting TALK to 741741.