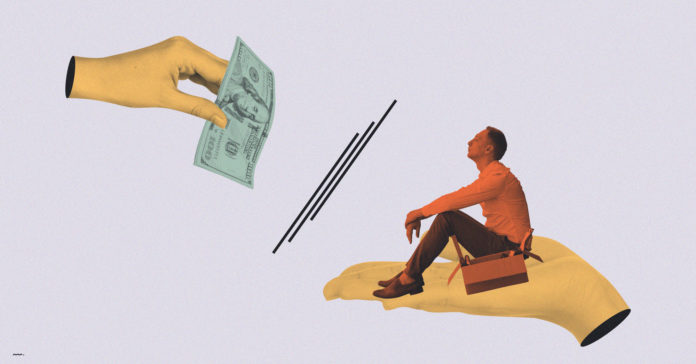 Unemployed Texans are due to soon start receiving an extra $300 a week in benefits, but those extra benefits will run out again after three weeks, leaving the jobless once again wondering where to turn for help.  Here are some resources and some advice.
The Houston Food Bank will be hosting a mass community food distribution 2-7 p.m. Friday at NRG Stadium.
Hospitality Workers
Get Shift Done started in March in Dallas and is helping hospitality workers who are out of work because of the pandemic get paid by pairing with local nonprofits and food banks to serve and provide hunger relief to communities. The mission has expanded and is now in North Texas, Houston, San Antonio, El Paso, Austin, and the Rio Grande Valley.
Get Shift Done co-founders Patrick Brandt and Anurag Jain say their online program was "originally conceived as a Dallas area initiative and naively considered a 10-12 week relief effort."
The mission quickly expanded.
"In total, 16,000 Texans signed up with Get Shift Done and have provided more than 30 million meals across 55 nonprofit locations in Texas alone," said Brandt and Jain.
"Shiftsmart donated its app-based labor platform, and private donors contributed the funds to pay the workers. Given the continued impact of COVID-19 on the economy and job market, Get Shift Done will continue through at least the end of the year in Texas to provide economic relief for those that remain jobless and struggling."
Workers can make $15 an hour, according to a press release sent to Reform Austin.
Texas Vets
Combined Arms is helping Texas veterans who are jobless through the pandemic. It has joined forces with the Texas Workforce Commission, Texas A&M University, the Walmart Foundation, the Institute for Veterans and Military Families, the University of Texas at Austin Institute for Military & Veteran Family Wellness, the Texas Veterans Commission and the Bob Woodruff Foundation to create the Texas Veterans Network. That is a statewide effort offering unique support such as job placement, résumé writing workshops, professional clothing, financial and housing assistance, food donation, interviewing skills and community support.
"By linking servicing organizations with veterans and their families, we have created a 'no wrong door' streamlined approach," said Sharon Ozdarski, Combined Arms Austin regional manager, in an email on Thursday. "The job market and economy have suffered greatly due to COVID leaving many veterans and their families in our community with unique assistance needs."
Recent College Graduates
For those who are recent graduates or attending school and wondering about their future job prospects, Monica Thompson, executive director of University Career Services at the University of Houston provided some tips on Thursday and said the university will be hosting virtual career fairs and events for all majors during the fall semesters for UH students.
Look to see if your university or college has similar programs.
"We also will prepare students on how to successfully recruit in a virtual environment. University Career Services' list of virtual workshops includes résumé boosting, virtual recruiting etiquette, and preparing for graduate school.
UH alumni have access to University Career Services until six months after graduation. 
"Knowing the economic projections are saying 9-18 months for the Houston job market to recover, stay abreast with the news related to the Houston economy. Don't let it stress you out," said Thompson.
Thompson suggests setting up alerts with various job boards. Facebook employment pages can be beneficial, and she said "you will see more service and essential worker type jobs."
Register with a temp agency.
"Some work and money is better than nothing. You can continue to build skills during this time," Thompson said.
Don't forget the value of networking.
"Network and reach out to friends, employed alumni and professional associations to learn about job opportunities," she said.
Making Changes
"While you may not have chosen your current situation, you can still use this time to your advantage," Keith Wolf, managing director of Houston recruiting and staffing firm Murray Resources, said in an email on Thursday. 
Wolf explained that the pandemic can bring clarity about your career goals and interests.
"Perhaps you've been in a career that is less than fulfilling. Or you've been looking to switch industries. Without the current pandemic, you may not have had the time or the inclination to reevaluate your career and how you want to move forward," he said.
Wolf said if you are thinking of pivoting careers, start with evaluating your strengths and what you truly enjoy doing.
"Write down everything you liked about your previous role(s) and what you would prefer not to do going forward. Every job has drawbacks, so don't try to find the perfect role, but it's important that you understand what fulfills you and how you are motivated," he wrote.
Once you have a set of target roles and companies, Wolf suggests you reach out to executives and managers in those roles and let them know you're just looking to learn about their industry.
"Treat it as information gathering and don't ask for anything beyond five minutes of their time. You won't hear back from everyone you contact, but if you send out enough messages, you will start having conversations that will lend clarity to your search."
The key is to continue the momentum.
"You're learning and you're making progress towards your end goal of landing your next role."
Remember, giving your résumé a boost means asking for help.
"The first step to improving your résumé is having the confidence to ask for help," Wolf said. "You may be surprised how many top executives have their résumé professionally written by an executive résumé writer."
Wolf's advice to those who are unemployed is to use this time to continue to level-up your skills with certifications and online classes that are relevant to your current or desired industry.
"CourseHorse, Udemy, Coursera, Edx, and Khan Academy are just a few of the online platforms that offer online learning, many of which are free. Universities such as Harvard offer a number of free courses," he said.
Wolf recommends looking at software tools that are essential to your industry. Some companies offer free courses to encourage the adoption and use of their software/programs.
"As difficult and time consuming as job searching may be, don't give up, Wolf said.
"Think of your job search like baseball – you may swing and miss, but it only takes one hit to get on base. The next pitch (job) could be the one that is meant for you."
Other Tips
Forbes had a story in March on improving your résumé , which was timely as the pandemic hit and so many people were out of work or being furloughed. Here's another on reviving your résumé. 

The Texas Workforce Commission spokesperson Cisco Gamez suggested this list of resources for those who are unemployed.