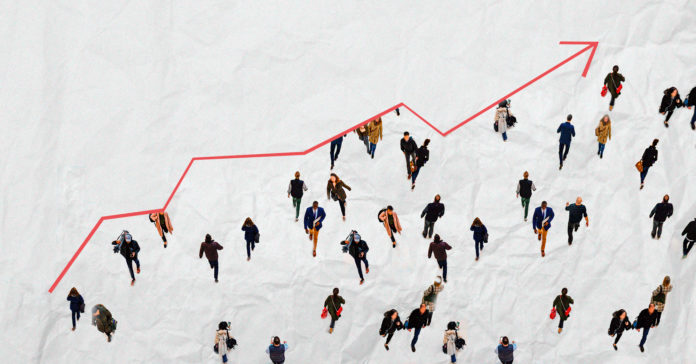 Before the coronavirus outbreak, before social distancing, the population in Texas was growing. In fact, for the past 10 years, Texas has grown tremendously.
Texas was in demand before COVID-19, but what will it look like after it?
When we return to normal, what will cities look like? Will a desire for urbanization still be there? Will new restaurants want to open? Will museums and arts venues sprout new schedules and programs? Will people want to live close to work? Will city life be the same?
What about the population?
The Senior Demographer and State Data Center Lead at the Texas Demographic Center at UTSA Dr. Lila Valencia shines some light on how urbanization and population may be affected by COVID-19.
"There's a few ways COVID-19 could impact population change in Texas. The most clear impact comes from the shelter-in-place orders. As people are asked to stay home, a major component of population change is affected, namely migration," Valencia explained in an email.
Texas adds about 1,000 people per day to its population.
"A little over half of that growth comes from net migration, migrants moving in from other states and other countries minus people moving out of Texas. As people are asked to stay in place, migration comes to a standstill and growth associated with this component stops."
According to Valencia, the other half of the population growth comes from natural increase (or births minus deaths).
"It is too early to tell how the coronavirus will impact births and fertility rates, but it is certainly having an impact on mortality rates," she wrote.
Emergence of infectious diseases is associated with increased human population density, according to Ricardo and Tracie Lowe, researchers at the Institute for Urban Policy Research & Analysis at the University of Texas. They wrote an opinion piece for the Austin American-Statesman last week.
"The world's urban population has increased almost 30 percentage points since the 1950s," they wrote.
Will the coronavirus affect the allure of Texas cities?
In an email on Thursday, Ricardo Lowe of the Institute for Urban Policy Research and Analysis at the University of Texas wrote, "Prior to COVID-19, many major U.S. cities were enduring rapid demographic shifts. Take Austin or Houston for instance. The urban cores in both spaces have become more walkable and transit-friendly–attracting young affluent migrants who possess high levels of human capital (highly-educated, high SES) and ultimately help to rejuvenate the local economy."
Lowe explains that cities will do what they must to appeal to the needs and desires of this particular demographic because they have notable economic impact and spending power.
"With the influx of people moving into these already densely populated areas, cities will race to ensure more transit is provided (to reduce overcrowding on buses and train lines for example), more bike lines are offered, and then, of course, structure neighborhoods and housing in a way that gives people more space despite their relatively close proximity (widening sidewalks, streets, etc)."
Lowe doesn't believe COVID-19 will negatively impact the allure of Texas cities unless they neglect making these changes. "It will caution cities to think a bit more strategic," he wrote.
If and when all the above-mentioned efforts are put into place, we might continue to see disparate impacts, according to Lowe.
"We already see COVID-19 impacting black and brown communities who are not only more likely to live in the urban core, but struggle with access to housing affordability in their own communities where historically, they have been longstanding."
"Those who can afford to and are willing may leave to suburban areas that are less densely populated and have affordable housing, but what about those who cannot afford to leave? Few will be able to benefit from the above-mentioned measures for long."
Lowe shares the question as to whether cities will remain alluring is really a matter of who they will be alluring to. "Afterall, COVID-19 is already exposing the inequities that remain pronounced in cities nationwide. The scary thing is that Texas has not reached its peak yet."
What can we learn from past pandemics?
To consider what the future might look like, one academic looks at pandemics of the past.
Steven Pedigo, a professor of practice at the Lyndon B. Johnson School of Public Affairs at the University of Texas at Austin and the director of the LBJ Urban Lab, discussed how the coronavirus could affect urbanization in an interview with Houston Matters last week.
"History shows us that cities become more dense."
Even as we look at epidemics and disease, that can not overpower the clustering effect — the power to come together to drive our economies forward.
Much of our growth in Texas, Pedigo said, is driven by the Texas Triangle of "Houston, San Antonio, Austin, Dallas Fort-Worth." That being the engine, Pedigo explains, we're going to see more concentration of industry and resources, and all of it happening in these urban areas.
In the interview, Pedigo stressed preparedness, economic development and the power of urbanization and factors that will push us more toward cities.
We may see restrictions in air travel. We may see areas that are closer-in to where businesses are and where walking is more desired, Pedigo said. And arts and culture will continue in urban environments, Pedigo said.
As for the impact of COVID-19 on urbanization, Valencia wrote that "population growth and urbanization are nearly synonymous nowadays."
Valencia also provided some history on urbanization in Texas and shared that in 1910, 24 percent of the Texas population lived in urban areas.
"In 2010, nearly 85 percent of the Texas population lives in urban areas. Today, the overwhelming majority of population growth in Texas takes place in our urban areas. The fastest-growing areas of the state are also in our urban areas."
How will the coronavirus change Texas?
Valencia doesn't think the coronavirus will change anything drastically in our lifetime when it comes to urban areas.
"So COVID-19 can affect how fast and by how much populations will grow in our urban areas, but it is difficult to imagine a scenario where COVID-19 could significantly affect or reverse the urbanization trend underway for over 100 years."In fact, we are now in a period of collecting population data for the 2020 census. That data not only will reflect Texas' population growth, it will determine things that data is linked to. Those include Texas' number of congressional seats, redistricting and where businesses choose to locate. If Texas gets more lawmakers, as predicted, they will help shape the state's future.