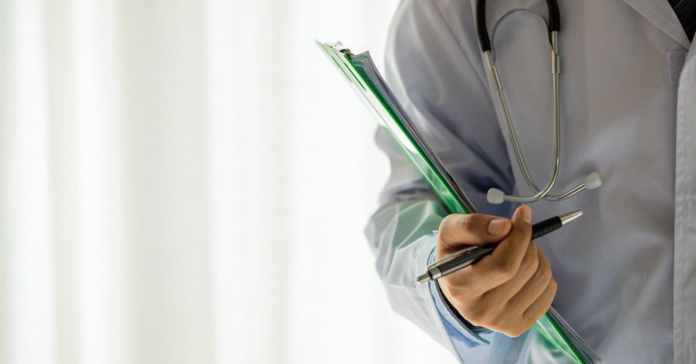 When more people begin showing up at workplaces again, will doctors and nurses be on payrolls so companies can be proactive in employee and client health testing?
Will on-site health care be in demand, and will telemedicine amp up for companies that may not have used it before?
While much information on this topic isn't readily available yet, measures such as taking employees' temperatures and other health screenings at work sites could be an important part of work life during the COVID-19 pandemic.
On-site health care is already a thing. Capital One, Goldman Sachs, Cisco Systems and Discover are a few companies that already have on-site health care, according to Glassdoor, a job search and business information website.
The Occupational Safety and Health Administration has COVID-19 planning guidance for the workplace. The guidance includes monitoring protocols and health checks for employees.
"Many large businesses such as Apple already have physicians on staff to take care of day-to-day and preventative care. For bigger companies that don't, physicians or nurses can be employed temporarily to help diagnose employees for COVID-19," said Edward Anderson, a professor in the Information, Risk, Operations Management department at the Red McCombs School of Business at the University of Texas at Austin.
"Smaller companies may not be able to afford a full-time physician or nurse, even temporarily," Anderson wrote. "However, they can have a part-time one travel to their location several times per week. Alternatively, the physicians or nurses could work for the buildings in which there are many different small firms."
Once the physicians or nurses are on-site, they should first screen all employees for COVID-19. This is crucial because so many infected patients show no outward symptoms, but they can still spread the disease.
Once infected employees are identified, they can then be given sick leave until their illness clears up and their close co-workers can be checked for symptoms as well. The screenings can be repeated regularly so as to catch any breakouts quickly. In between, any employees who believe they might be infected can see the physician for screening.
All of these measures' effectiveness will of course increase once physicians or nurses can administer reliable COVID-19 antibody tests rather than rely on taking temperatures and checking for symptoms such as coughing.
Telehealth
The next issue of the Texas Nursing Association's magazine will have a feature about telehealth, Kanaka Sathasivan, MPH, director of communications, wrote in an email Friday. 
"Lots of our nurses are using it successfully," Sathasivan wrote.
Houston Methodist has conducted 45,000 telemedicine visits since the pandemic began, Dr. Roberta Schwartz, executive vice president and chief innovation officer, told RA News this week. 
The Future
Consultancy firm Accenture said that health care will be a focus for all firms even after the coronavirus pandemic ends, the BBC reported.
But what about high-traffic places such as sports and entertainment venues?
"Where large gatherings take places such as malls and sports complexes, employing physicians or nurses is even more critical," Anderson said. But "they typically will not be able to screen all the people in a gathering, but only with people who come to them that have symptoms."
Physicians could be on the lookout for people in the facility who are coughing to offer to check them for a temperature, Anderson said.
"Once tests are more available, test them with a test kit. Beyond that, they can alert people in the facility that there is a problem, although privacy laws will put some constraints on how to do that."
What other health and business actions would need to be in place to help the economy function more openly again?
Anderson said the most important thing other than getting regular screenings set up in businesses, is to also screen workers in the transportation industries like trucking, airfreight, and cargo ships that are the lifeblood that connects businesses with their suppliers and customers. He also said many businesses will need to find alternative suppliers, particularly overseas suppliers, that are shut down because of the disease.
"Longer-run, businesses will need to make investments in their warehouses, distribution centers, and other logistics to carry more inventory to buffer short-term shocks such as those from future pandemics or even natural disasters that take critical suppliers offline," Anderson wrote. "Also, they must move from relying on one sole supplier in one geographical location such as Italy or China to spreading that risk by employing multiple suppliers from different parts of the globe, such as having suppliers in Asia, Europe and the U.S. Both these moves increase firms' short-term costs to a certain extent, but prevent the hemorrhaging of revenue and employee layoffs caused by future crises."
Texas Gov. Greg Abbott has said he plans to announce more details on Monday about how Texas and its economy will continue to operate during the pandemic.