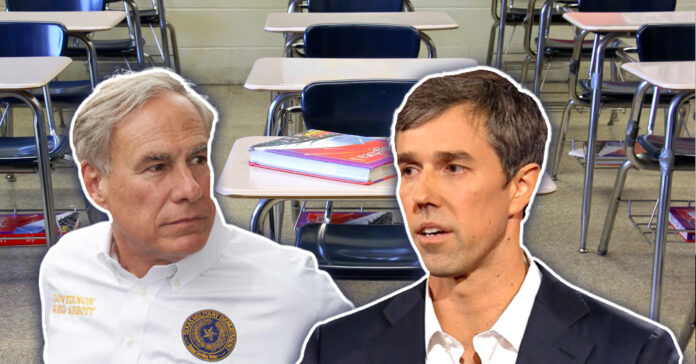 Gov. Greg Abbott and Democratic challenger Beto O'Rourke are in a brawl over school vouchers that could be a turning point in the upcoming election for Texas Governor.

In May, Abbott expressed his support for the idea of school vouchers and since then O'Rourke has been hammering him over the issue, especially seeking an advantage in rural Texas – where Democrats need to improve their margins if they want a better chance at winning statewide.

According to The Texas Tribune, O'Rourke's campaign is also running newspaper ads in at least 17 markets, mostly rural, that urge voters to "reject Greg Abbott's radical plan to defund" public schools and his digital campaign is living by the phrase: "Abbott has left behind rural Texas"

"For our rural communities, where there's only one school district and only one option of public school, he wants to defund that through vouchers, take your tax dollars out of your classroom and send it to a private school in Dallas or Austin or somewhere else at your expense," O'Rourke told a rural audience recently.

Meanwhile, Abbott is not shying away from the controversy he ignited in May when he said: "the choice to send their children to any public school, charter school or private school with state funding following the student."

He has said O'Rourke's newspaper ads are a "complete lie," accusing O'Rourke of siding with "union bosses" over parents.
"The Governor strongly believes parents deserve more involvement in their children's education," Abbott spokesperson Mark Miner said in an email. "The real question is why is O'Rourke so afraid of parental involvement with their children's education? Shouldn't families across Texas have the same opportunities that Beto's parents had to send their kids to the school of their choice?"

Polling on vouchers in Texas has been dicey and inconclusive.

In an April survey from an independent pollster, the University of Texas at Austin, 45% of voters said they supported — and 40% said they opposed. In May, the anti-voucher Texas Parent PAC commissioned a survey that found 46% of likely voters support — and 43% oppose — "a school voucher program in Texas."

Meanwhile, vouchers still face an uphill battle in the chamber. According to The Texas Tribune, last session, the House voted 115-29 on a budget amendment to ban vouchers, with a majority of Republicans siding with Democrats. The amendment did not make it in the final budget after late negotiations with the Senate.