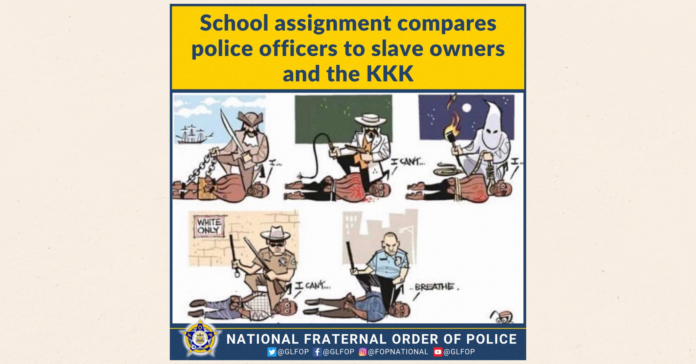 Gov. Greg Abbott wants a Wylie Independent School District teacher fired over a cartoon that compared police officers to slave owners and Ku Klux Klan members.
About 400 eighth grade students in the district received an assignment containing the cartoon, KDFW reported.
Abbott also has called for an investigation by the Texas Education Agency and said the cartoon comparing police officers to the KKK was "beyond unacceptable … It's the opposite of what must be taught." 
The National Fraternal Order of Police noticed the cartoon, and Joe Gamaldi, FOP national vice president and Houston police officer, tweeted a photo of it.
"This is abhorrent and disgusting, and only further widens the gap between police officers and the youth in our community," he wrote.
Gamaldi also told KDFW, "At a time in our country where we are so desperate to bridge the gap with our community, where we need to rebuild trust, that teacher is preaching divisiveness."
Wylie ISD apologized for the social studies school assignment that is now canceled. The cartoon shows a white man kneeling on a Black man's neck in different scenes. The district said the assignment wasn't part of the district's curriculum and was intended to be about the Bill of Rights.