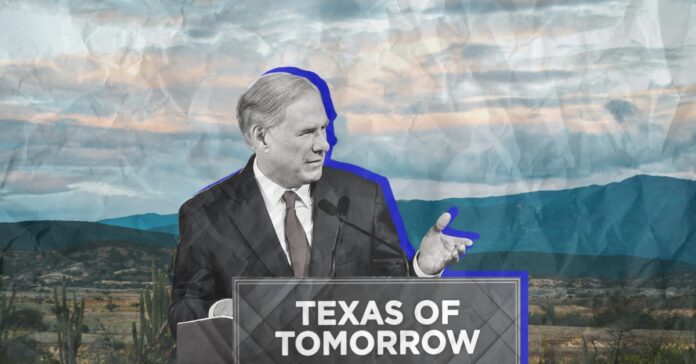 On Monday, Gov. Greg Abbott made his latest play to push vouchers, also known as "school choice" or "education savings accounts," as part of a statewide barnstorming tour to rally support for the program that would further reduce public school funding in the state if it becomes law.
Abbott, who has stated that education is one of his top priorities this year, was the special guest speaker at the Parent Empowerment Night on Monday in Corsicana, after previous stops in Temple and Corpus Christi.
The rally was coordinated by Parent Empowerment Coalition, an activist arm of the Texas Public Policy Foundation, whose funders are long-time critics of the state's public school system due to their conservative political positions.
And curiously, each stop on the tour has something in common — they are primarily in rural areas where Republican members of the Texas House or Senate are against vouchers — and typically don't have private schools in great enough numbers to justify the effort.
For example, the Corsicana ISD has more than 6,000 students enrolled, but there's only one non-public school currently operating in the entire area — the site of the event, called Park Meadows Academy, which has only 62 students.
So why did Abbott choose Temple, Corsicana, and Corpus Christi, areas without significant private school options for proponents of voucher options? — Abbot's public campaign for vouchers undoubtedly puts pressure on GOP lawmakers who have previously voted against the programs to possibly reconsider their positions — and the plans are also backed by high-ranking state leaders including Lt. Gov. Dan Patrick.
And, as the Quorum Report pointed out, the governor was AWOL when it came to campaigning for these legislators: "Back in Austin some GOP legislators who served when Abbott was in his first term as governor in 2015 have been grumbling about the fact that he's now touring districts to twist arms on vouchers but he never lifted a finger to help them in subsequent primaries when they had supported his education agenda."
Rural GOP Elected Officials Have Historically Opposed Vouchers
Temple is in the district of state Rep. Brad Buckley, R-Killeen, who is the chair of the House Public Education Committee and voted against voucher programs, and Corsicana is represented by Rep. Cody Harris, Republican of Palestine, who also has voted against prior versions of school voucher legislation. State Rep. Hugh Shine has previously also opposed vouchers.
Abbott has long been a supporter of the doctrine of "school choice" but his zeal was tempered slightly in 2022, as he was backing some Republican candidates opposed to the idea. But once the election was over and the 88th Legislature had begun, he was once again banging the drum for the idea.
Abbott's latest speaking stops show that he's convinced virtual learning programs that resulted from the COVID-19 pandemic exposed issues in public schools that have created momentum for private school choice.
This outlook was evident in his recent remarks at the tour stop in Temple, as he invoked comments that echoed the GOP's rallying cry in 2020, as he claimed parents were still upset with mask mandates.
"Parents are angry about woke agendas being pushed on their children in schools," Abbott told the crowd to applause at a private school in Temple.
And he waged a culture war with elected leaders in Democratically controlled areas of the state, expressly preventing them from extending the public mask mandate at the height of the deadly worldwide Covid-19 outbreak.
But some observers have noted that Abbott does not seem to understand — or simply overlooks how interwoven public schools are in rural communities in the state — being a large employer in those less economically developed districts.
Even as the current legislative session is well underway, Republican and Democratic state lawmakers continue to oppose any voucher, credit, or accounting method that would result in "School Choice."
However, they disagree for different reasons — Democrats argue against the idea of creating a full-blown system that would allow parents — some solely motivated by political ideology — from taking public tax dollars to educate their children outside of the public school system.
Pro Public Education Rally Counters Abbott's Event
But Monday in Austin, a pro-public school rally featuring elected representatives from both parties gathered at the state capitol in an event planned by members of the Texas PTA encouraging them to fully fund schools, deny school choice initiatives, and offer teacher raises.
"Every child's potential should be a reality; the children of Texas deserve it," said Suzi Kennon, Texas PTA president.
State Rep. Ken King, R-Canadian, said he opposes vouchers because he believes the state should first focus on fully funding public education. The state funds about 40% of the cost of public education, stating that makes him an "unequivocal no" on vouchers.
King told the crowd on Monday that "Forty percent is not fully funding our public education system…When we finally do that, and somebody wants to give away taxpayer money to private entities, I might change my mind. But until (public schools are) fully funded, I'm standing where I stand."
And state Rep. Gina Hinojosa, D-Austin said "We are one of only six states in the whole United States of America that punishes schools by deducting (funding) from what our schools receive when our kids are absent," speaking to the current funding measure that determines the amount of state tax support school districts are funded.
In previous remarks, King said that he is fundamentally opposed to taking public dollars and giving them to private institutions to educate our kids.
"No. 1, it's a bad idea because we fund public schools based on population—it's price per head. Rural schools get the least funding because we have the least amount of kids. When you take money out of the system, our schools get hit first," King told the Canadian Record, the publication serving his district.
"No. 2, the two places these charter schools, private schools, magnet schools do not go is rural Texas, and they don't go to the inner cities," King added. "They can't make any money there.
Voucher Battle Lines Drawn — Will This Time Be Different?
So the opposing camps in the battle over vouchers are well drawn in Texas, and nationally similar programs are gaining momentum in other red states such as Arizona.
Fueled in part by a far-right advocacy campaign known as 'Parents Matter,' created and funded by the TPPF, to advocate for wholesale changes to K-12 education, voucher systems, as well as curriculum and school library list reviews, public schools are in the crosshairs of conservative PACs.
TPPF is funded by two far-right billionaire Texans, Tim Dunn and Farris Wilks, who have a stated goal of creating a "Christian Nationalist" environment in the state's school systems, blatantly disregarding the U.S. Constitution.
Their views mirror that of the arch-conservative Heritage Foundation, whose stated goal is the "rooting out federal intervention in education everywhere it exists, breaking up the accreditation cartel, eliminating the racist ideas of critical race theory and other woke ideology from the classroom, and enabling education choice," according to their website.