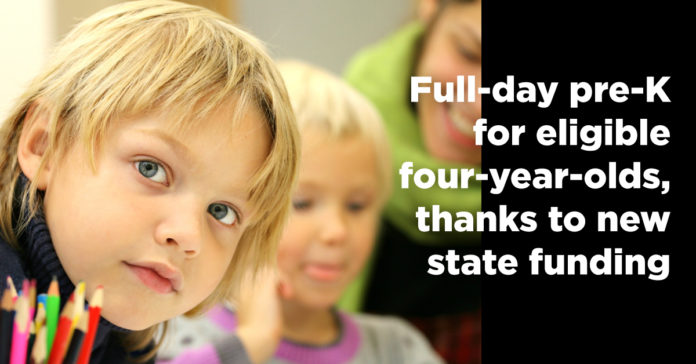 When school starts this year, public schools and open-enrollment charter schools will now provide full-day pre-K for eligible four-year-olds, thanks to new state funding.

Texas lawmakers approved $780 million for early education as part of the major school finance law, HB 3, signed by Gov. Greg Abbott in June.

In the past, Texas school districts were only required to offer half-day, or three-hour, pre-K to certain students. If districts chose to operate full-day programs, they had to use resources from other operating funds. Districts that already offer full-day pre-K can now spend the resources they're currently using for pre-K on other needs.

Research shows that effective pre-K programs support academic success for students down the line. Dallas ISD showed in 2018 that third graders previously enrolled in the district's pre-K program were 23 percent more likely to read at grade level than third graders who were not in the program.

In 2017, Texas lawmakers made nearly $150 million in cuts to pre-K. That same year, Texas ranked 28th in state pre-K spending per child and 37th in total state spending on pre-K. Legislators made education a priority issue in 2019, but investments made this year don't extend beyond 2021. The two-year plan backtracks on the state's trend of pushing education costs down to local school districts.

What hasn't changed with the new law is who is eligible for free, public pre-K. Enrollment is limited to children who are at least four years old by September 1 of the current school year and meet one of the following criteria: eligible for free or reduced-priced lunch, are learning English, have ever been in foster care, are homeless, have a parent who is on active duty with the military or was killed or injured on active duty, or have a parent who is eligible for the Star of Texas Award as a peace officer, firefighter, or emergency medical first responder.

With the new law, the state also did not establish limits on pre-K class size or student-teacher ratios, which have been shown to improve the effectiveness of pre-K programs. In the future, Texas could create these limits in addition to making sure there is a long-term funding source for these education initiatives.