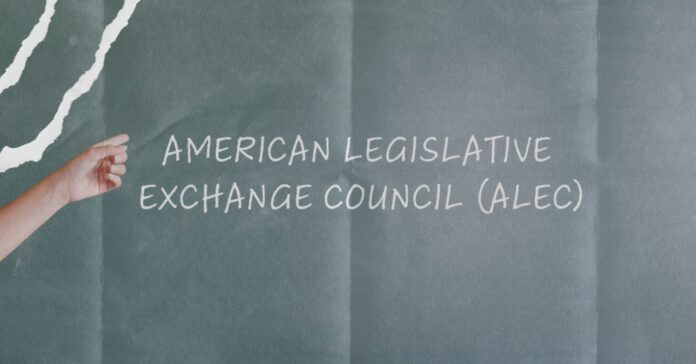 Last week, a who's who of conservative Texas legislators proudly attended a workshop on school vouchers headed by the American Legislative Exchange Council (ALEC). The guest list included: Rep. Carrie Isaac (R-Dripping Springs), who tried to ban polling places on college campuses; Rep. Kronda Thimesch (R-Lewisville), a staunch advocate of prohibiting gender-affirming care for minors; Sen. Paul Bettencourt (R-Houston), the upper chamber's main tax policy writer; and Sen. Brandon Creighton (R-Conroe), the prime architect of the school voucher push in the legislature.
Many Texans probably aren't familiar with ALEC. It doesn't have the name recognition of some of the headline-grabbers in conservative politics like Tim Dunn and Farris Wilks. However, they've been a driving force in Texas legislation for years.
ALEC was started in 1964 after the crushing defeat of Barry Goldwater in the presidential election. Co-founded by Paul Weyrich (who also started The Heritage Foundation), ALEC spent most of its time working in the shadows for various conservative causes. In practice, it partners with corporations to draft model legislation, which is then introduced by allies in state and federal legislatures.
In Texas, ALEC's involvement with politics was mostly unknown until the 2010s. That's when voting rights advocacy groups, particularly Colors for Change, put pressure on politicians to distance themselves from ALEC and their slew of anti-voting laws. The Center for Media and Democracy published a list of model legislation drafted by ALEC, some of which was signed onto law. These include a tort reform bill that massively reduced the amount plaintiffs could recover in medical costs, a voter ID law that violated the Civil Rights Act, and a push to receive Medicaid funding as a block grant, something experts say will lead to rationed care.
Throughout this, ALEC has worked with the Texas Public Policy Foundation (TPPF), who also helps fund ALEC. The two organizations have been a part of various conservative task forces over the years on subjects like stand your ground laws and more anti-voting measures. It's also pretty common for lawmakers who are part of ALEC to go to work for TPPF, such as Ron Simmons. Lt. Governor Dan Patrick is an ALEC alumnus, and Governor Greg Abbott is a speaker at many of their events. All told, more than 50 Texas Republicans are associated with ALEC in some way.
Unsurprisingly, ALEC is connected with a slew of major conservative donors. Koch Industries. The closed nature of ALEC's finances means its impossible to know how much Koch has poured into ALEC, but it's at least $1 million. Major corporations like AT&T, Exxon, and Shell are also financially contributing corporate partners. Legislators pay yearly dues to be part of ALEC.
ALEC is much more than a typical corporate lobbyist. Through their close connection with most of the big names in Texas conservative politics, they actually write a fair amount of laws that are ultimately signed. Their meetings are closed to the public and the press, which means people often aren't even aware of the connection between mega-corporations and new legislation until journalists compare and contrast previous ALEC proposals. The shadow of ALEC is very long, and it shows no sign of diminishing.