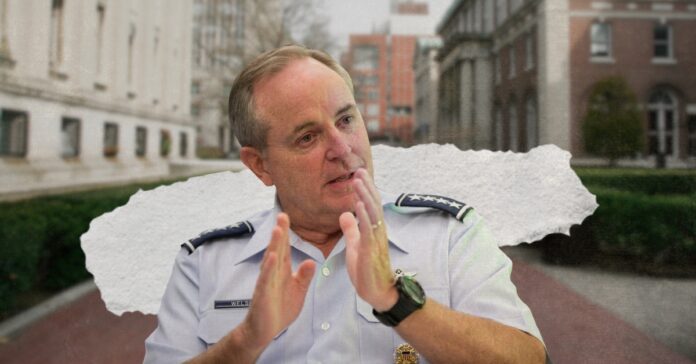 On Sunday, the Texas A&M University System Board of Regents unanimously voted to make acting President Mark A. Welsh III the interim president of its flagship university.

They also voted to authorize the university attorneys to negotiate a potential settlement with Kathleen McElroy, a Black renowned journalism professor at the University of Texas at Austin, after her botched hiring process. 
After Texas A&M University President M. Katherine Banks resigned on July 20, Welsh, dean of the Bush School of Government and Public Service, was appointed by Chancellor John Sharp as the acting president until the regents could find an interim.
Banks had served as the president of the flagship university for two years and had interested herself prematurely in the hiring of McElroy amid "DEI hysteria."
The board intends to conduct a national search for a new president.
"I cannot think of a better person than Mark Welsh to lead Texas A&M right now," Sharp said in a press release. "He has experience running a large organization, but he also is widely respected and universally well-liked in the Aggie community. General Welsh has earned a reputation as a smart, thoughtful and collaborative leader. We are lucky to have him in the president's office."
McElroy was hired to revive Texas A&M's journalism program; the university also celebrated her signing an offer letter for a tenured faculty position with a signing ceremony in June.
However, in the weeks to follow, McElroy received a watered-down version of a contract than what was originally offered. The university officials renegotiated her contract due to the conservative backlash of her hiring. Her past experience with diversity initiatives at newsrooms and previous employment at The New York Times was questioned by conservative groups after her hiring was announced.
In early July, the university presented McElroy with a one-year contract teaching position and a three-year appointment as the director of the journalism program. Though it is to be noted that she could be fired at any time, she told the Texas Tribune.
McElroy turned down the watered-down offer and will remain at UT-Austin.
The system office of general counsel will conduct a "complete and thorough investigation" into the botched hiring process of McElroy; they have pledged to release the results of the investigation publicly.
The board of regents also authorized the university attorneys to negotiate a potential settlement with McElroy, although she has not filed a lawsuit against the university.
Regent Mike Hernandez was absent from the meeting, where regents met for three hours in an executive session, closed to the public. The vote was done without public discussion of either agenda item.