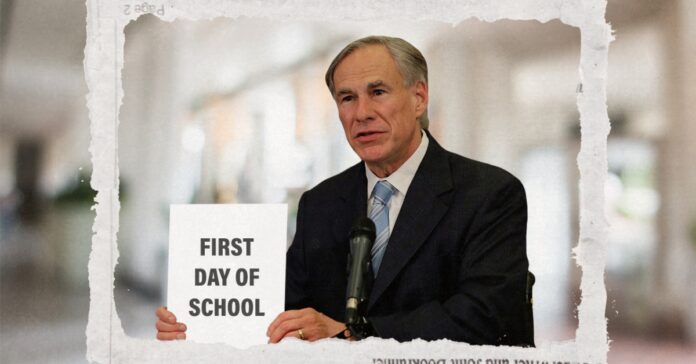 As the sun rises on a new school year, a mix of excitement and apprehension fills the classrooms across the nation. Amidst the bustling energy, the state of Texas stands out for its unresolved issue: the lack of increased teacher pay raise.

As school doors open, the absence of adequate funding looms, casting a shadow over the public education system's future. This unsettling reality raises concerns that some schools might never experience future first days due to a lack of funding.

Despite a massive $30 billion-plus budget surplus, public school districts in Texas are facing uncertainty as a proposed funding boost remains stuck in the Legislature. Consequently, school districts are resorting to using their savings accounts to provide modest raises for their staff members.

The lack of funding has also dashed hopes for investments in new buses and band instruments, leaving districts with no choice but to turn to federal emergency dollars and resort to laying off administrators. These measures are being taken in an effort to address the critical workforce shortage and prioritize salary increases for teachers.

The setback arose after state lawmakers declined to pass a teacher pay raise bill or a comprehensive school funding plan, despite strong public support.

The only school funding bill with potential, House Bill 100, was worth $5 billion in formula funding for public education, it addressed the basic allotment, moving from average daily attendance to enrollment-based funding, raising the minimum salary schedule for teachers – guaranteeing an automatic pay raise for 70,000 teachers – and other key education priorities.However, the bill died in the House after the Senate backed Gov. Greg Abbott's voucher plan and modified it drastically. The HB100 went back to the House with significantly less money allocated to teacher pay raise but with $500 million set aside for education savings accounts.
As the voucher titanic sunk, so did school funding, leaving school districts without a lifeline, and many are struggling to secure funds to keep their ships afloat.
Teacher salaries in Texas trail the national average by about $6,000, according to the most recent figures from the National Education Association labor union. In addition, teacher wages have essentially stagnated over the past decade when adjusted for inflation, according to a report released last April by the Texas American Federation of Teachers Union and the left-leaning think tank Every Texan.
There is still a glimmer of hope as lawmakers plan to have a special legislative session for education in October. In June, Texas House Speaker Dade Phelan announced the House Select Committee on Educational Opportunity and Enrichment which will focus on issues that "broadly affect educational opportunities for K-12 students in Texas."
The committee has been assigned the responsibility of presenting an initial report on potential alternatives for enhancing educational opportunities for students in grades K-12. This report must be submitted on or before August 11th.