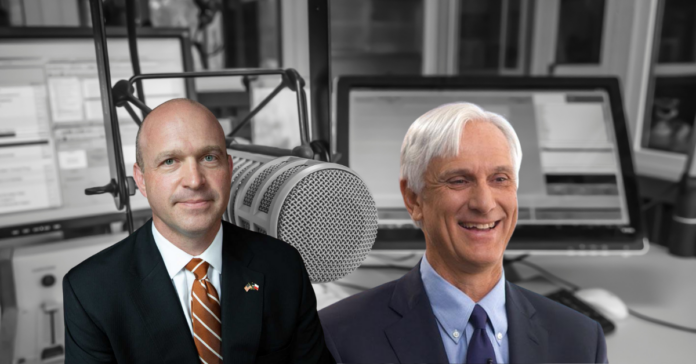 The powerful far-right Texas Public Policy Foundation is hoping to further their school voucher agenda over the summer with a slew of radio ads and events at public schools. Though the ads are nominally about conservative social just bogeyman issues like teaching the effects of white supremacy in schools or libraries having books about LGBT issues, each call-to-action ends with asking support for some sort of voucher system.
"To empower parents, Texas should make school curriculums transparent and demand school officials treat parents' legitimate concerns with respect," reads the pledge on TPPF's website that the ads encourage visitors to take. "Texas must hold its education system accountable for the quality of the education it provides and remove the barriers that limit where parents can choose to send their kids to school."
The push for a voucher system is an attempt to use taxpayer funds that normally go to public schools for private, mostly religious and conservative, education. Specifically, TPPF wants a version of a Nevada law that established an "education savings account" so that parents could use tax money to pay for tuition. The law was recently ruled as being in violation of the Nevada constitution. Educational groups in the state have long criticized the idea for stripping money out of Nevada schools, failing to make opportunities for poor families, and promoting discrimination and segregation.
Nonetheless, TPPF hopes to use scare tactics around trans kids and "critical race theory" to shove through a voucher system in Texas. They've made it quite clear that the ultimate goal is to empower Christian nationalism in education.
Tim Dunn is the vice chairman of the TPPF, and one of the most feared far-right moneymen in the state. In November 2010, just after the Tea Party swept into power in Texas, he had a meeting with then-Speaker of the Texas House of Representatives, Joe Straus. Straus was a centrist, backed by the GOP establishment and the state's Democrats, but the shake-up in the midterms put his power base in jeopardy. Dunn demanded that Straus strip committee assignments from anyone who wasn't a Christian.
TPPF CEO Kevin Roberts was also blunt in a recent fundraising letter.
"If there was ever any doubt as to 'Is the Texas Public Policy Foundation a Christian nationalist org who wants to tear down public schools?', well fundraising letter from CEO Kevin Roberts answers it," tweeted political journalist Christopher Tackett in November. He included scans of the letter, which railed against "Marxism," "sexual indoctrination," and other far-right conspiracy theories. The letter repeatedly says that TPPF will use the outrage over these social issues to propose laws leading to school vouchers.
The push by the TPPF is likely to be a very powerful presence in the 2022 midterm elections. The organization is well-funded by a handful of wealthy corporations, and they have been laser-focused on ousting any conservatives that does not embrace vouchers as the way to move kids out of the public school system and into private religious education as taxpayer expense. By using scaremongering around issues like gender identity and historical teaching of white supremacy, TPPF has opened the door for a voucher system that may segregate Texas schools and leave them even more dangerously underfunded.