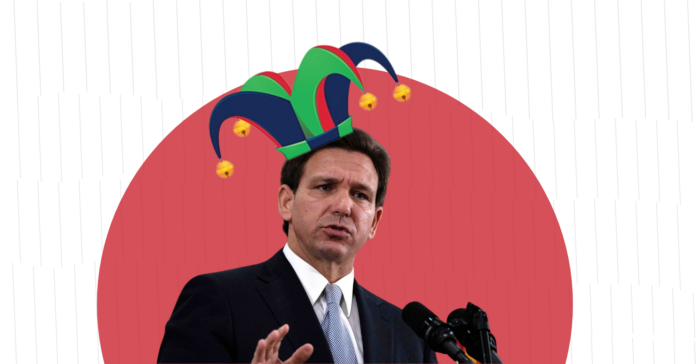 Last month, Florida Gov. Ron DeSantis, proposed reversing a 2014 measure, denying in-state tuition to college students who came to the U.S. as children without documentation.

Deferred Action for Childhood Arrivals (DACA) program – or Dreamers, makes in-state tuition available for students who lack legal immigration status. Shutting down this program is part of DeSantis' package of legislation cracking down on illegal immigration, effectively killing the "dreamers" educational future.

This would leave thousands of students who are undocumented immigrants without tuition, hence, without education. Is this the correct answer for the future of Texas?

Gov. Greg Abbott, is not above using illegal immigrants as political pawns, just a few months ago both DeSantis and Abbott were shipping captured border crossers, many of them asylum seekers, to more liberal locations in an attempt to get Democrats to enact harsh policies against migrants and expose the hypocrisy of liberals.

For months it has seemed like DeSantis and Abbott have been in a fight to see who is the most conservative governor of the country, and it might not come as a surprise if Abbott were to jump on board DeSantis' new game plan.

However, according to a Dallas Morning News column, "Texans are smarter than Ron DeSantis." When it comes to offering in-state tuition rates at state postsecondary institutions to all Texas high school grads, regardless of immigration status, Texas has long been a national leader – and hopefully will continue to be.

In general, all American voters are smarter than DeSantis. More than 70% of Americans support legal status for Dreamers, according to data from Pew Research, including 61% of Texas voters.

In the Dallas Morning News opinion columns, Dennis Nixon, CEO of IBC Bank, and Michael Hinojosa, former superintendent of Dallas ISD, recommend Texans "absolutely should not try" to follow DeSantis's footsteps, and here is the main reason why:

Education = Investment

Immigrants make up approximately 17% of the U.S. labor force. Making educated immigrant workers vital for the nation's future.

Currently, there are 100,000 Texas Dreamers, many of whom went through the Texas public K-12 system. According to the group Every Texan, those who are DACA recipients have a collective spending power of $3.7 billion.

Their ability to work, earn, spend, and save has a distinct positive economic force, which is tangible in our state's most indispensable public industries. Including 4,300
health care workers and 2,800 teachers, and among 30,600 Texas essential workers.

According to Every Texan, if the DACA program ends, Texas stands to lose around $139.7 million annually in state and local taxes.

"Take K-12 education away from them (undocumented children) and they become not tomorrow's gift to the state, but our liability," said Nixon and Hinojosa. 
In addition, Nixon and Hinojosa remind Texans of a crucial point made in the 1982 Plyler vs. Doe U.S. Supreme Court ruling that guaranteed free K-12 education to undocumented young people.

The court said: "By denying these children a basic education, we … foreclose any realistic possibility that they will contribute in even the smallest way to the progress of our Nation."

If tens of thousands of children in Texas go without an education, this would create, in the words of Pyler, "a separate and identifiable underclass," which in turn would lead to even higher levels of unemployment, poverty, and crime.

In conclusion, Nixon and Hinojosa reiterate that providing in-state tuition for those same students who have passed through the K-12 education system will provide an economy for generations to come and "is just common sense."

"We Texans do not want to see our home state lose its competitive edge to other states because we signed onto an anti-commonsense policy similar to what DeSantis supports."