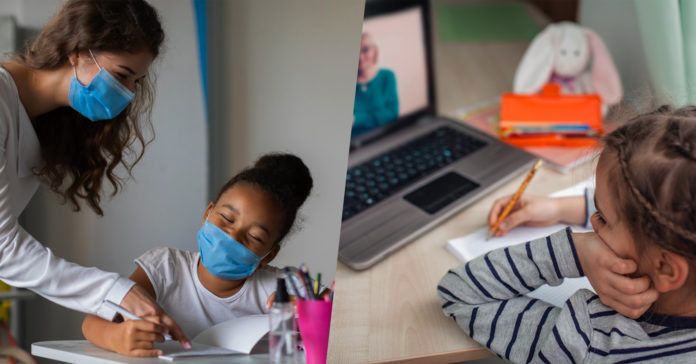 Remote or on campus? For many families, this has been a stressful question during the pandemic. Here is a look at what parents throughout Texas have decided so far.
Many districts started on-campus learning weeks ago. However, Monday was the first day of in-person instruction in the Austin Independent School District.
Before this week, the majority of Austin ISD students were engaging in remote, off-campus learning. Fewer than 1% of students were on campus because of specific educational needs that limited their abilities to receive virtual instruction, Eddie Villa, communications specialist at Austin ISD, explained in an email.
AISD parents were surveyed about their preferences between in-person or remote classes between Sept. 10 and Sept. 25.
The findings show that for the elementary level, 43% of respondents were planning for their student to go to school on campus beginning Monday. For middle school students, 27% of families chose on-campus learning. At the high school level, 76% of families chose remote learning, 15% chose to be on campus, and 9% chose a hybrid of the two options.
When it comes to getting to school, the majority skipped the bus. Of those families who chose on-campus learning, more than 60% planned to make their own arrangements for dropping off and picking up the student.
At Dallas ISD, Robyn Harris, news and information director, said "it's about 50% who have opted for in-person and virtual."
Houston ISD reported that as of Sept. 29, 61% of families in the district had chosen virtual learning.
San Antonio ISD did not respond to RA News' inquiry about current statistics on on-campus learning.
At North East Independent School District in San Antonio, classroom occupancy is increasing to 15 students. Superintendent Dr. Sean Maika said that as the situation continues to improve in Bexar County, the district plans to return more children to the classroom.
El Paso ISD remains closed for in-person instruction at this time.

Some school districts in Texas are requiring low-performing students to return to the classroom based on progress report results. Also, there has been low enrollment in North Texas for pre-kindergarten students for the 2020-2021 school year. The Dallas Morning News reported that thousands of students haven't enrolled yet, and Dallas ISD pre-K enrollment has taken a great shift down from 12,237 students last year to just 4,000 students this year.