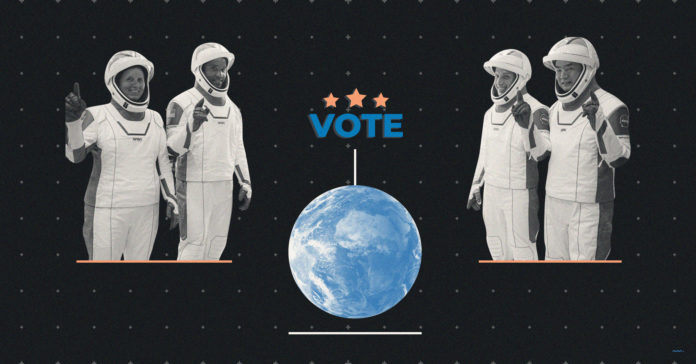 Four NASA astronauts are working aboard the International Space Station, and they will still get a say in the Nov. 3 election. Voting from space is similar to voting absentee or by mail but with none of the controversy and from much farther away.
NASA astronaut Kate Rubins told NPR it is an honor to vote from space and that "it's critical to participate in our democracy."
Along with Rubins, astronauts Mike Hopkins, Victor Glover and Shannon Walker plan to vote while they float in space.
Astronauts may be able to vote from space, but absentee voting is controversial here on Earth.
Texas Democrats want to make sure that all eligible voters can safely cast their ballots in this year of the pandemic plus the presidential election. Republicans, on the other hand, have concerns about fraud. RA News has been reporting on all the political arguing and lawsuits over expanding mail-in voting.
Here's an example of how voting from space works for a Harris County resident.
To make sure there are no glitches, the astronauts first send a test ballot to the team at NASA's Johnson Space Center in Houston. After using a training computer to make sure the ballot can be filled out, it's sent back to the county clerk, according to NASA.
"After a successful test, a secure electronic ballot generated by the clerk's office of Harris County and surrounding counties in Texas is uplinked by Johnson's Mission Control Center to the voting crew member," according to NASA's website. "An email with crew member-specific credentials is sent from the county clerk to the astronaut. These credentials allow the crew member to access the secure ballot."
"The astronaut will then cast their vote, and the secure, completed ballot is downlinked and delivered back to the county clerk's office by email to be officially recorded," NASA says.
According to NASA, the clerk has their own password to ensure they are the only one who can open the ballot.
The astronaut has until 7 p.m. local time on Election Day to submit the ballot if they are voting as a Texas resident.