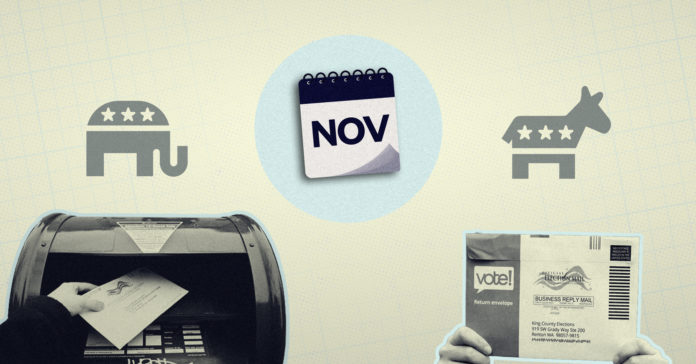 As tumultuous battles over expanding mail-in voting in Texas play out in courtrooms and political brawls, it's no wonder voters are bewildered and anxious about the best options for casting their ballots in the Nov. 3 election.
With more than 660,000 cases and 14,000 deaths in Texas due to COVID-19, many Texans are wary of being able to vote safely in person. That's why Democrats and voting rights advocates have pushed aggressively for expansion of mail-in voting to allow voters of all ages to cast their ballots that way.
But those efforts have met resistance from Attorney General Ken Paxton and other Republicans, who dismiss the pandemic as cause for flexibility on state laws that restrict mail-in voting to people age 65 and older, those who are disabled or ill, are in jail but still eligible or are out of town during the election.
Republicans insist that expanding mail-in voting invites voter fraud although there is scant evidence of fraud and available security measures protect the integrity of ballots.
Nevertheless, President Donald Trump, trailing Democratic challenger Joe Biden by 10 percentage points in national polls, and other Republicans continue to claim mail-in voting leads to voter fraud as they try to sow distrust of this form of voting.
Yet, as Trump and his allies claim that Democrats are trying to steal the election through mail-in voting, Republicans have been mailing out applications for absentee ballots, claiming those ballots differ from mail-in ballots, although they do not.
In Texas, voters have been receiving robocalls from Donald Trump Jr. and Lara Trump, wife of the president's son Eric, encouraging them to vote by mail. The Republican Party of Texas has also sent mailers encouraging eligible voters to apply for mail-in ballots and has posted a link on its website to request a mail-in ballot.
But when Harris County's Democratic leadership announced plans to send applications for mail-in ballots to all of its 2.4 million voters, instead of just those eligible, Republicans pounced. The Harris County Republican Party sued and won a temporary victory from the Texas Supreme Court on Tuesday.
A separate lawsuit brought by Attorney General Ken Paxton and Secretary of State Ruth Hughs also resulted in a favorable ruling for Republicans.
"Hypocrisy doesn't even begin to describe what Trump and his Republicans surrogates in Texas are willing to do to keep him in office," said Texas Democratic Party Communications Director Abhi Rahman in a statement. "It would seem Republicans on the Texas Supreme Court and the Trump campaign have one set of rules for the president and his supporters and another set of rules for everyone else.
"Texas Democrats remain committed to making sure all eligible voters are able to safely cast a ballot amid the deadliest pandemic in the last century," Rahman said.
Democrats say Republicans are hurting themselves by discouraging mail-in voting.
"Many Republican voters are worried about the virus and would vote by mail but can't," said Matt Angle, founder and director of the Lone Star Project, an initiative supporting the election of Democrats. "Some of them will end up not voting because the virus is making it risky and dangerous to go to the polls."
Some Republican operatives have also expressed concern that the president's "vacillating mail-in voting rhetoric" could cost Trump the election.
Democrats also worry about voters opting out if they are prevented from voting by mail. Although Democratic efforts to expand mail-in voting to all Texans have mostly failed, a Texas Supreme Court ruling has left it to voters to decide for themselves if they qualify as being disabled.
Texas Democratic party officials, voting rights' advocates and political observers predict a record turnout despite the battle over mail-in voting.
"The confusion about mail-in ballots and worries that voters won't be able to participate in perhaps the most important election of their lifetimes means many voters aren't taking the chance to send a ballot through the mail," said University of Political Science Professor Brandon J. Rottinghaus.
Adding to voters' concerns about voting by mail was Trump's recent assault on the U.S. Postal Service, including threats of operational changes and withholding funding to prevent the post office from being able to manage the large number of mail-in ballots.
Voters are also alarmed by the Trump administration's announced expectations that a winner be declared on election night, which would not take into account the protracted process of counting mail-in ballots.
A bipartisan group of more than 100 current and former government leaders and campaign operatives have established the Transition Integrity Project to deal with the fallout if a winner "may not, and we assess likely will not, be known on election night as officials count mail-in ballots." Members predict  "a chaotic legal and political landscape" ahead.
To tamp down problems and make sure their votes count, some Texas voters are leaning toward voting in person.
"I've heard many, many people say they are planning to wear double masks and double gloves and go to the polls," Angle said.
"A lot of voters, and especially those in the African American community, will be voting early as they have done in past elections," said Michael O. Adams, professor and interim chair of political science in the Barbara Jordan-Mickey Leland School of Public Affairs at Texas Southern University.
"We have extended early voting this year, a curbside voting option and safety measures will be in place to make people feel more comfortable since turnout will be extremely high this year."
A recent poll conducted by The Dallas Morning News and the University of Texas at Tyler found that about 1 in 5 Texas voters would be uncomfortable voting in person. Democrats indicated they are more likely to feel uncomfortable, 32 percent, compared to 24 percent of independents and 6 percent of Republicans, who feel that way.
The League of Women Voters of Texas is encouraging those planning to vote by mail to request a ballot as soon as possible.
"It's best to do it before Sept. 19," Grace Chimene, president of the League. "Then mail it back as soon as possible. Don't put it off past Oct. 23 because it takes seven days to process."
The League of Women Voters of Texas has more information about voting on its website, my.lwv.org/texas.
The post office is also delivering postcards to Texas voters with tips for requesting and returning mail-in ballots. For more information, visit usps.com/votinginfo.