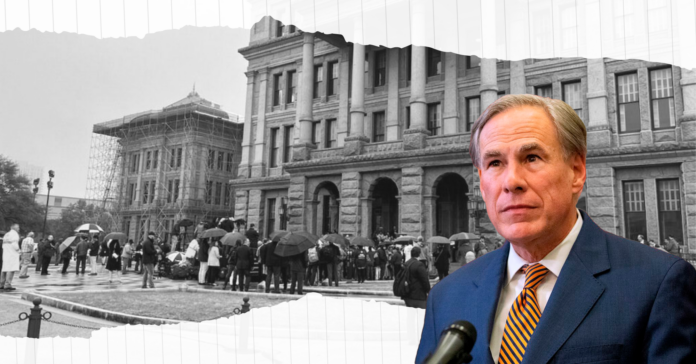 According to law enforcement on the scene, only about 200 people showed up for today's rally for "school choice," the euphemism supporters have invoked in order to sell vouchers to a skeptical public. Plans for the rally came to light last week when sources leaked to RA News a clarion call from the governor that pleaded with supporters to come out and demonstrate support, and promised them that their transportation and lodging would be paid for. The rally was scheduled ahead of Wednesday's Senate Education Committee hearings, which will include discussion of proposed "school choice" legislation.
"I cannot win this fight alone," Abbott told the gathering. "I need you standing with me — fighting with me on this challenge. And when you stand and fight with me, we are going to win." It remains to be seen whether 200 Texans standing with the governor will be enough to tip the balance toward vouchers.
The voucher plan has support in the Senate, but the House is a tougher sell, as rural lawmakers have historically been more dubious of legislation that will likely siphon money from rural public schools to fund private schools in urban areas. Voucher supporters have pledged that public schools will be fully funded, but experience in other states shows that those assurances don't stand the test of time.
State Sen. Brandon Creighton, R-Conroe, authored Senate Bill 8, which will be discussed at the hearing Wednesday. It would grant parents $8,000 per child toward private school tuition. Districts with fewer than 20,000 students – think rural districts – would get state money to make up for losing students (and revenue) to private schools.
But most private schools in Texas charge more than $10,000 a year for students to attend. Some charge far more. According to the private school website Private School Review, the private elementary school average tuition cost is $10,068 per year, and the private high school average is $11,637 per year in Texas. At Cypress Christian School, where Abbott is set to attend another rally Tuesday evening, high school tuition is advertised on its website as being $20,450 per student.
As the Quorum Report points out, polls show that the more people hear about vouchers, the less they like them. "Regardless of party affiliation, the majority (55%) of those responding to the poll reported being less likely to support vouchers knowing that these proposals would give private schools, not parents, the right to choose," said Texas Association of School Boards Executive Director Dan Troxell.
The poll of 804 registered voters "was conducted in February on behalf of TASB by Perception Insight, an Austin-based opinion research firm," her the association. The respondents included 48% who reported voting for Republicans most often and 30% who said they usually preferred Democrats. 14% were self-identified independent voters, per the pollsters.