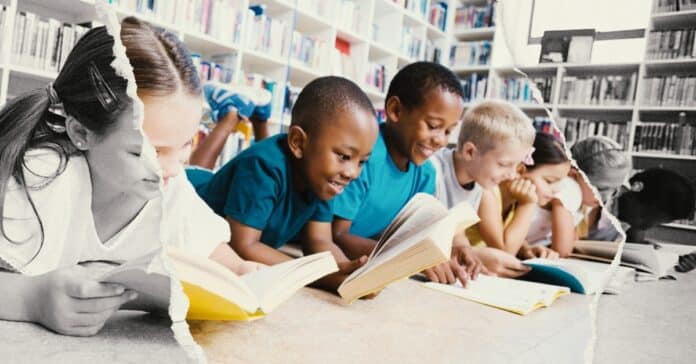 In response to the increasing wave of state laws restricting literature related to race, gender, and LGBTQ+ themes in educational settings, Scholastic, a renowned publisher of children's books, unveiled an optional collection with "woke" books.

According to EducationWeek, scholastic introduced "Share Every Story, Celebrate Every Voice," housing 64 titles that touch upon LGBTQ+ characters, civil rights activists, and people of color. The distinctiveness of this collection is that it allows elementary schools hosting Scholastic book fairs to choose whether to include or exclude these books from their offerings.

In the past year, Texas has taken the lead in banning books from school libraries, surpassing all other states in the nation. According to a recent analysis by PEN America, a nonprofit organization dedicated to championing free speech, the state's targets have included books focusing on race, racism, abortion, and LGBTQ representation and issues.

PEN America found 3,362 instances of book banning at K-12 schools during the 2022-23 school year, up 33% from the previous year. In March, The Houston Chronicle compiled a detailed list of the challenges that were being made to school libraries and revealed that since the term "critical race theory" became widely utilized to oppose teaching about racism, the labor movement, gender identity, and sexual orientation, challenges, and bans sharply skyrocketed. In 2017, only five books were challenged and none were removed. By 2021, the challenges had reached 29 and the removals 19.

Earlier in the month, Scholastic demonstrated its opposition to book bans by signing an open letter drafted by PEN America. However, the publisher's recent press release suggests that, given the increasing prevalence of restrictive legislation, their options were limited. Scholastic felt compelled to make books related to race, gender, or sexuality optional in their book fair collection or not offer them at all.
"We don't pretend this solution is perfect—but the other option would be to not offer these books at all—which is not something we'd consider," the press release read.

Here is the complete list of Scholastic's separate collection provided by EdW:
The ABCs of Black History by Rio Cortez
All Are Neighbors by Alexandra Penfold
All Are Welcome by Alexandra Penfold
Alma and How She Got Her Name by Juana Martinez-Neal
Alma's Way: Junior's Lost Tooth by Gabrielle Reyes
Battle Dragons: City of Speed by Alex London
Battle Dragons: City of Thieves by Alex London
Because of You, John Lewis by Andrea Davis Pinkney
Big Nate: Payback Time! by Lincoln Peirce
Blended by Sharon M. Draper
Booked (Graphic Novel) by Kwame Alexander
Change Sings by Amanda Gorman
City of Dragons: Rise of the Shadowfire by Jaimal Yogis
Dragon Prince Graphic Novel #2: Bloodmoon Huntress by Nicole Andelfinger
Dragon Prince Graphic Novel #3: Puzzle House by Peter Wartman
Efrén Divided by Ernesto Cisneros
Federico and the Wolf by Rebecca J. Gomez
Freestyle by Gale Galligan
The Girl in the Lake by India Hill Brown
The Girl With Big, Big Questions by Britney Winn Lee
Her Own Two Feet by Meredith Davis
Our World in Pictures, the History Book
Home for Meow: Kitten Around by Reese Eschmann
Hummingbird by Natalie Lloyd
I Am My Ancestors' Wildest Dreams by Tanisia Moore
I Am Ruby Bridges by Ruby Bridges
I Color Myself Different by Colin Kaepernick
Into the Heartlands: A Black Panther Graphic Novel by Roseanne A. Brown
JoJo's Sweet Adventures: The Great Candy Caper by JoJo Siwa
Justice Ketanji by Denise Lewis Patrick
Karma's World: Daddy and Me and the Rhyme to Be by Halcyon Person
Karma's World: The Great Shine-a-Thon Showcase! by Halcyon Person
The Loud House: No Bus, No Fuss by Shannon Penney
The Loud House: Old Friends, New Friends by Daniel Mauleon
Mabuhay! by Zachary Sterling
Miss Quinces by Kat Fajardo
Mommy's Khimar by Jamilah Thompkins-Bigelow
More Than Peach (Bellen Woodard Original Picture Book) by Bellen Woodard
Nuestra América by Sabrina Vourvoulias
Parachute Kids by Betty C. Tang
Pedro and the Shark by Fran Manushkin
Pets Rule: My Kingdom of Darkness by Susan Tan
Pets Rule: The Rise of the Goldfish by Susan Tan
Picture Day by Sarah Sax
Red: A Crayon's Story by Michael Hall
Refugee by Alan Gratz
Reina Ramos Works It Out by Emma Otheguy
Remarkably Ruby by Terri Libenson
Rez Dogs by Joseph Bruchac
The Secret Battle of Evan Pao by Wendy Wan-Long Shang
She Dared: Malala Yousafzai by Jenni L. Walsh
Speak Up! by Rebecca Burgess
Sports Heroes Lebron James
The Storyteller by Brandon Hobson
That Girl Lay Lay: It's Time to #Slay by That Girl Lay Lay with Kwyn Bader
That Girl Lay Lay: Positive Vibes Only by Andrea Loney
Thunderous by M. L. Smoker
The Tryout by Christina Soontornvat
We Shall Overcome by Bryan Collier
When Clouds Touch Us by Thanhha Lai
Where Are You From? by Yamile Saied Méndez
Who Was the Greatest? by Gabriel Soria
You Are Enough by Margaret O'Hair
You Are Loved by Margaret O'Hair