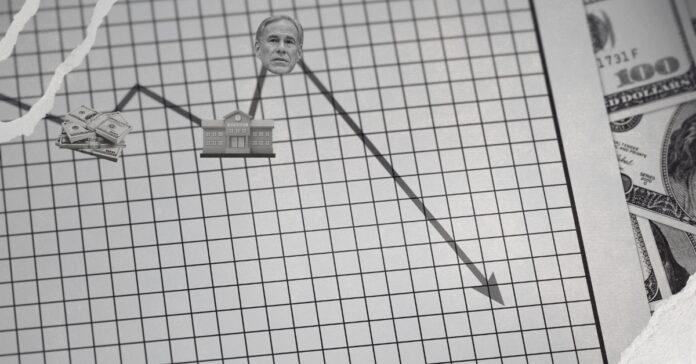 The bitter infighting in the Texas Legislature has schools across the state sweating huge deficits as they wait for lawmakers to push forward.
The state has a record $32 billion surplus currently, and some of that money is definitely going to be spent on Texas schools. . .eventually. The problem is that the House and Senate are locked in a war over property tax reform that has ground progress to a halt. To put pressure on legislators, Governor Greg Abbott vetoed many necessary bills until after the property tax argument was settled.
In addition, bills that would boost the basic allotment per student for Texas schools have their own rancorous row going on. Abbott and other far-right Texas Republicans are pushing to institute a school voucher system that would let parents use public money to send their children to private, mostly religious schools. The effort has been blocked by rural Republicans in the lower chamber, leaving the allotment increase stalled.
This has schools all over Texas facing enormous deficits.
North East Independent School District recently added $35 million to their budget in an effort to boost employee retention. The money will go to raises for teachers, bus drivers, custodians, and special education professionals. While sorely needed to keep employees in on campus, it also adds $10 million to their budget deficit.
Burnet Consolidated Independent School District is down $1.3 million, and is talking about raising property taxes to pay for it. Austin ISD has a $52 million deficit from their new budget. It brings the minimum wage for district employees to $20 an hour and will hopefully keep more employees from quitting. The new budget went into effect Saturday.
Fort Worth ISD has continually run deficits for four years, and the current one is up to $50 million. Like others, the money is mostly going to pay increase for teachers.
Over the course of COVID and the resulting inflation, school districts have struggled to retain staff. Overworked and often targeted by parents over culture war issues, more teachers are leaving schools than ever before. The attrition rate for the last school year was 13 percent.
School districts need to raise pay if they have any hopes of keeping staff. The problem is that the current allotment for students is simply too low. Lawmakers raised it from $5,140 to $6,160 in 2019, but that is no longer adequate to cover expenses.
Experts believe an increase of at least $1,000 per student would halt some of the monetary bleeding, though it will certainly not be enough to prevent this same fight in another four years.
On top of that, there is the worry that the proposed voucher system, if approved, will stretch the funds even further. Texas Republican supporters have tried various ways to sweeten the deal, including offering rural districts stipends for lost students and eliminating the STAAR Test, but in the long run a voucher system will funnel money out of public schools and into private ones.
While the legislature fights it out, districts hemorrhaging cash.